Just found this meme & I like it already *weg*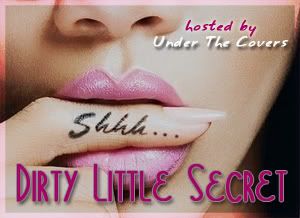 Dirty Little Secret is a weekly meme hosted by
underthecoversbookblog
Every Thursday (yes...I know I'm a little late, but these questions I just have to answer)
To participate in the meme all you need to do is:

1. Be a follower of Under the Covers.
2. Create a post in your blog taking the meme image and copy instructions.
3. Answer the question proposed! This can be done in any way you like, post a video, write a post etc.
4. Then add your link.
This weeks question:
Complete the following sentences with fictional character names:
I would have a one night stand with...
I would like to be sandwiched between....
I would have a one night stand with Eric (Sookie Stackhouse series)
I would marry Qhuinn (BDB series)
I would like to be sandwiched between Wrath the Blind King (BDB) & Acheron (Dark Hunters)
I would turn bi for Pam (Sookie Stackhouse series)