Hi All,
I hosting another giveaway. Once I get 100 followers, I will be giving away the following books; Swallowing Darkness by Laurell K. Hamilton & The Vampire's Bride by Gena Showalter.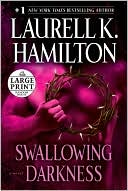 Rules & Instructions:
1. Follow my Blog
2. Tweet about Giveaway (post link in comment section, along with twitter name)
Lata Days...muah!