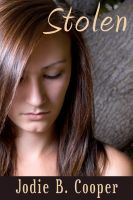 from Goodreads:
Every vampire has a destined lifeMate, a mate who is a perfect match. What happens if that perfect mate is stolen?

Katrina knows Eric is her destined mate, but her high school rival has other plans for Eric.

Twisting the most ancient of Sídhí laws, Clarisse steals Eric from Katrina with binding words, knowing Katrina can't fight back. Or can she?

Dreams of death dance in Katrina's head, because no one gets between a vampire and her true mate.
Review:
Stolen was a really enjoyable book. The story between Katrina & Eric was wonderful and there was an interesting story plot as well.
I loved the world that the author wrote about, as there was a mixture of different elements in the book. There were vamps, ghouls, trolls and the whole lot.
In this story Katrina comes of age before her best friend Eric & realizes that she is his mate. While waiting for Eric to come into his adult vampire body, Katrina's arch enemy claims him as her mate and the story goes from there.
I thought there would be more of a revenge plot at the end of the book, but I still enjoyed it. I highly recommend this book. It's a wonderful additional to the young adult paranormal romance genre.
Stolen gets 4 Black Orchids
Lata Days...Muah!