TEASER TUESDAY
Teaser Tuesday is a weekly bookish meme, hosted by MizB of Should Be Reading. Anyone can play along! Just do the following:

1. Grab your current read.
2. Open to a random page.
3. Share two 'teaser' sentences from somewhere on that page.
4. Add the title and Author's name too, so that other TT participants can add the book to their TBR pile.

*BE CAREFUL NOT TO ADD SPOILERS
My teaser is from Fourteen Days Later by
Sibel Hodge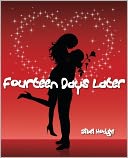 "How are you, then Charlie?" I sat down, staring at the ridiculous sight of him crammed into black leather trousers, which were so tight they must have been shrink-wrapped onto him, and a shrieking pink, shiny top. His belly was contorted into rolls of flab beneath it, which looked severely uncomfortable, and I was sure he'd been stuffing socks down his trousers again.
'I'm fabby, darling.'
'Why aren't you working?' I eyed his sock with suspicion.
'Waiting for inspiration.' Charlie glanced over and caught me looking.
Lata Days...muah!