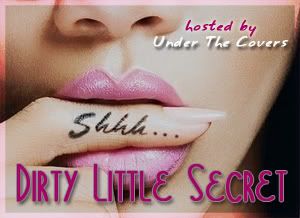 Dirty Little Secret is a weekly meme hosted by us at Under the Covers. Every Thursday we get to know other bloggers and our readers more intimately by asking them a question hoping to reveal their dirty little secrets. We hope that you will all join us!

To participate in the meme all you need to do is:

1. Be a follower of Under the Covers.
2. Create a post in your blog taking the meme image (code above) and copy instructions.
3. Answer the question we propose! This can be done in any way you like, post a video, write a post etc.
4. link back to Under the Covers..

Non-bloggers: We want to hear from you as well!!! Let us know your answer in the comments!

So join us and let us know your Dirty Little Secrets!
"You have been viciously attacked, but then saved by the tall, dark vampire of your dreams; however, he has had to change you into one of the blood sucking denziens of the night to save your life. After realizing that your favourite snack is now going to be a sip of O negative, what food do you begin to think you will lose your immortality for?"
I mean I wouldn't mind being turned into a vamp. Hmmm, especially if Lothaire was to change me... BUUUTTT to answer the question, it would be Twizzlers...yes ppl Twizzlers. I ABSOLUTELY love them! I can eat an whole pack in under 2 mins (yep..I've done it before)....