Welcome my Sweets...hee!...hee! All Hallows Eve will soon be upon us. Won't you join myself & my fellow brethren for the Spook-A-Licious Blog Hop Tour.....
I'll be giving away the following goodies:
Monster Story by McCarty Griffin (eBook; ePub version)...A BIG thank you to McCarty for offering this wonderfully scary read!!!
&
A $10 Barnes & Noble eGift Card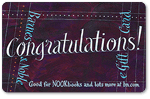 This giveaway will be US & Intl.
Instructions: All you have to do is Follow this blog & Tweet about the giveaway (leave direct link in comments section)
**Also, please be sure to click on the link below to visit my fellow bloggers to win some more awesome treats! Fill your Halloween bag UP!
okay, Michael Mhyers is like the scariest boogie man I've ever seen. So here's a little bit of him to enjoy...er I mean fear!