I'm so excited about the release of the 4th book in the Wick Years Series. I was just fell in love with Gregory Maguire's new take on OZ. This one will definitely be one of my top November reads!!!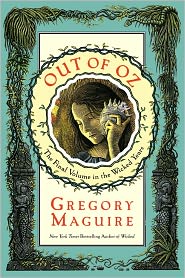 Format: Hardcover
Pages: 568
Overview (Barnes & Noble)
The stunning conclusion to the smash
New York Times
bestselling series the Wicked Years
Gregory Maguire's Wicked Years series became national bestsellers and the basis for a hit Tony-winning Broadway musical. Now, Maguire returns with the final installment in his transformative work, a thrilling and compulsively readable saga in which the fate of Oz is decided at last…
Once peaceful and prosperous, the spectacular Land of Oz is knotted with social unrest: The Emerald City is mounting an invasion of Munchkinland, Glinda is under house arrest, and the Cowardly Lion is on the run from the law. And look who's knocking at the door. It's none other than Dorothy. Yes.
That
Dorothy.
Yet amid all this chaos, Elphaba's granddaughter, the tiny green baby born at the close of
Son of a Witch
, has come of age. Now it is up to Rain to take up her broom—and her legacy—in an Oz wracked by war.
Lata Days...MUAH!
Sharonda (SexxyBlogger)