Hi All
This review is seriously late and I apologize to the Bewitching Book Tours and the Author Rosalie Lario. But an unexpected emergency came upon me.
I've been itching to read this series because I've heard some pretty awesome things about it and also have been reading equally awesome reviews as well. So when the opportunity came up to review the books, well...I just had to take it.
I have to start off saying I absolutely love the fresh twist on Demons by Rosalie. It's really exciting and each of the brothers stories was just mind blowing. How mind blowing you ask? Well let's just say I finished book two in 1 day and let me tell you, I haven't done that in a while.
This series starts off about 4 half blood demons who are Brothers, each with a different origin. Thanks to their evil father, who is a evil demon with grand delusions of grandeur. He rapes and impregnated different species in the attempt to create his own personal evil army and Keegan and is brothers are the prime of these children.
Keegan and his Brothers are now Interdimensional Bounty Hunters for the Elder Council, each council member represents a different being earth included.
Each book so far has been a non stop enjoyment for me. Each brother has his own personal journey and issues to go throughout each book.
Book 1 ~ Blood of the Demon (Keegan's Story)
Oh! So exiting and fresh. I loved it. Keegan is half dragon....how cool is that? Keegan falls immediately for Brynn after he kidnaps her in the attempt to get to her before his father Mammon does. She's the key to the destruction of earth. Her ancestor created the Book of the Dead and she is the only one who can read the book. So whomever controls her, controls the book or so they think. The harder he falls for her, he will go against his brothers and the elder council to protect Brynn at all cost. Even giving his own life.
Book 2 ~ Mark of the Sylph (Taeg's Story)
Taeg is half faerie and wears the most um interesting T-shirts. You have to read the books to find out how interesting and trust me you won't be disappointed. Taeg is looking for a way to redeem himself with is oldest brother and his new wife (of course Keegan & Brynn) he wants to find the ancient sword Excalibur because it would destroy the book that Brynn's ancestor created that controls zombies. In his research, he meets Maya who has a little magic in her as she can see through magical glamour. Once Taeg stumbles upon this, he realizes that Maya can help him find the sword. There's only one problem, because her family was killed my flesh eating demons, she hates demons of all kinds and getting her to help him won't be easy at all....
Book 3 ~ Touch of an Angel (Ronin's Story)
Ronin is half angel. The bounty hunting business is really slow and Ronin and his brothers are worried that they will be sent back to Infernum and that wouldn't be good. They finally get a assignment from the council to stop and evil incubus who has some very devilish plans. This incubus is also using succubi's to help him and one night while staking out his house, Ronin and his brothers find out that one of the succubi's is the one who nearly killed him a month earlier. But that's not the only problem, Ronin is falling for Amara in a bad way. Now along with her and his brothers, they have to face not one, but two bad guys.
Okay do you guys know I said there were 4 brothers and we haven't gotten to Dagan's story yet (Call of a Siren). He's the baby of the brothers and I can't wait to read his story. He's the playboy of them and I'm dying to know what female is going to tie this gigolo down.
So with that I also got to read the ARC of Cresso's story. You will read about him in the brothers books.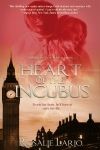 Book 3.5 ~ Heart of the Incubus (Novella)
Cresso is a sexy incubus who works in a lab funded by the elder council. He' working on a cure for sex demons where they won't kill their otherworldly mates. He's also falling in love with his co-worker Genevieve, a human who has magical abilities. There's one thing though, she can't stand him.
Genevieve had a bad breakup with her ex and she has written off men like him. Cute, sexy playboys. But she finds herself liking the incubus Cresso more than she should. When she discovers she has a stalker, a sick one at that. She needs Cresso's help and finds out that whether she likes it or not, she's falling for him hard too.
All books were excellent and I love them all. There was a new level of excitement and each one and that is just great ;)
All books is this series gets 5 Black Orchids
Lata Days....MUAH!
Sharonda (SexxyBlogger)