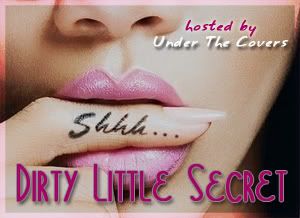 Dirty Little Secret is a weekly meme hosted by us at Under the Covers. Every Thursday we get to know other bloggers and our readers more intimately by asking them a question hoping to reveal their dirty little secrets. We hope that you will all join us!
To participate in the meme all you need to do is:
1. Be a follower of Under the Covers.
2. Create a post in your blog taking the meme image (code above) and copy instructions.
3. Answer the question we propose! This can be done in any way you like, post a video, write a post etc.
4. Then add your link back at
Under the Covers
.
Non-bloggers: We want to hear from you as well!!! Let us know your answer in the comments!
We hope you join us and let us know your Dirty Little Secrets!
This week's question:
It's lent and time to give up your favourite things for 40 days and 40 nights (or sneak some when no one is looking!) What series of books would you have to give up, and why?
Well, hells bells...what a question ladies. Hmmmmm, I guess it would have to be The Southern Vampire Series (Sookie Stackhouse).
I became addicted (does that sound bad? lol) after watching the TrueBlood series on HBO. I read the first two books in the series and that was all she wrote, well...no it wasn't, but you get the idea :o (love me some Eric too!). I would only give it up not because of the sexy vampires and OH so hot wolves, faeries and others but because of Sookie herself...she can be such a ditz sometimes. BUT, don't let that stop ya...it really is a good series to read and the TV series just makes it sooooo much better. Check it out if you haven't.
Thanks..MUAH!
Sharonda (SexxyBlogger)