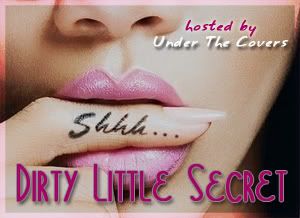 Dirty Little Secret is a weekly meme hosted by us at Under the Covers. Every Thursday we get to know other bloggers and our readers more intimately by asking them a question hoping to reveal their dirty little secrets. We hope that you will all join us!
To participate in the meme all you need to do is:
1. Be a follower of Under the Covers.
2. Create a post in your blog taking the meme image (code above) and copy instructions.
3. Answer the question we propose! This can be done in any way you like, post a video, write a post etc.
4. Then add your link below.
Non-bloggers: We want to hear from you as well!!! Let us know your answer in the comments!
We hope you join us and let us know your Dirty Little Secrets!
This week's question:
So it's V-Day. You are all dressed up in your tiniest, yet most expensive undies (go figure!), got a dress on your mother would definitely disapprove of and enough condoms to keep a football team happy, where are you going and which of your favourite book boyfriends are taking you there?
hee...hee.. Rhage from BDB. hmmm where are we going. Absolutely no where. First up...we're going to have dinner at my house. Rare steaks, Sweet Red Wine and then of course dessert. And no, the vamp will not have me because I'll be having HIM...
Lata Days...MUAH!
Sharonda (SexxyBlogger)