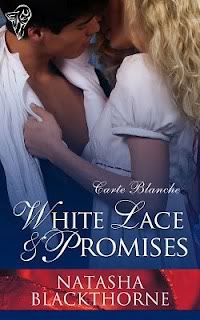 Published: December 26, 2012
Format: eBook
Available: Total E-Bound (All eReaders)
Book Blurb:
Book two in the Carte Blanche Series
Beth and Grey's passionate battle of wills continues...
New York Merchant Prince Grey Sexton loves the audacious, spirited young temptress who seduced him in a Philadelphia bookseller's and made passionate love to him in his carriage. Her fiery nature broke through his cold self-protection. But in a time of war and trade disruption, he cannot allow himself to be distracted. He vows to put business above all else in his life, including his bride.
Shocked and hurt by Grey's distance, Beth wonders whether he truly returns the burning love she feels for him. Beth demands that Grey prove he can truly change once and for all or else she will not start a family with him. But will the dark, sensual secrets she yet keeps repel this arrogant, self-controlled gentleman she has married?
My Review:
Oh what to say other than I loved this story. Grey and Beth are getting married, but there is a lot of drama going on before this wedding and after the wedding.
Natasha kept with the premise of how both Grey and Beth would not let the other best the other. It was a frustrated read because I wanted to reach through my NOOK and choke the both of them. They just wouldn't talk to each other and it lead to so much nonsense that could have been avoided. They both are happy and in love with the other, but because of past relationships and the sayings of other people (more on Beth's side), there was the small sense of distrust and it almost led to their end.
I was pleasantly surprised to read about Grey's son Jan and I have to say he became my favorite in this story. I like how Natasha integrated him into the story and I hope to read more about him (hint, hint...lol).
If you are looking for a historical read with drama and passion, which I have to say is just about as good as the first book, then this is the story for you.
It was an exciting and enjoyable read. Pick this one up!
My Rating: 5 Black Orchids

Thanks...MUAH!
Sharonda (SexxyBlogger)