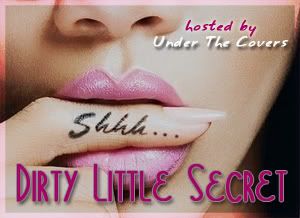 Dirty Little Secret is a weekly meme hosted by the gals at Under the Covers. Every Thursday we get to know other bloggers and our readers more intimately by asking them a question hoping to reveal their dirty little secrets. We hope that you will all join us!
To participate in the meme all you need to do is:
1. Be a follower of Under the Covers.
2. Create a post in your blog taking the meme image (code above) and copy instructions.
3. Answer the question we propose! This can be done in any way you like, post a video, write a post etc.
4. Then add your link back at
UTC
.
Non-bloggers: We want to hear from you as well!!! Let us know your answer in the comments!
We hope you join us and let us know your Dirty Little Secrets!
This week's question:
How do you go about reviewing 1 or 2 star books or books you didn't enjoy?
Since I started this blog, I think I only posted one...I think. But I've read more than one book that wasn't really good or to my liking. I don't really like to post them and that's not to say that I only post good reviews. It's just that I don't like to write or say bad things about someone's writing...that's just me & how I am, I kind of shy away from stuff like that. But if I ever do write a not favorable review, I would always be respectful of the author. Just because I didn't like their book doesn't mean someone else wouldn't.