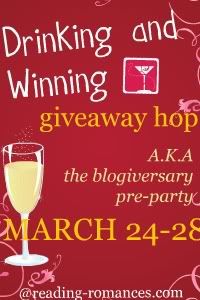 Welcome to the Drinking & Winning blog hop hosted by
Reading Romances
as a preparation for their party on March 29th.
So I'm a wine drinker (red wine) BUT I also love my Grey Goose. I came across the drink below one night and just loved it. It mixes both my favs together...check it out.
Chateau GREY GOOSE®.
Ingredients
GREY GOOSE® Original1Part
Cherry Heering½Part
Amer Picon¼Parts
Blackberries5
Blueberries5
Spice Mix3Pinches
SPICE MIX INGREDIENTS
20 Allspice seeds
5 almonds
1 vanilla bean
1 cinnamon stick
Preparation
Place all ingredients in a cocktail shaker and muddle well.
Add ice and shake vigorously.
Strain into a small wine glass.
SPICE MIX PREPARATION
To create the spice mix, place 20 allspice seeds and 5 almonds in a mortar and pestle and grind well.
Scrape the inside of a vanilla bean and grate 1 cinnamon stick into the mixture.
Place over a low fire and roast for four minutes.
Time for the giveaway! I'm giving away a copy Lover Unbound by JR Ward (it's a lil slightly used, but still in good reading condition). And why this book? because Vishous who is my fantasy dream man drinks Grey Goose too, although he drinks it straight.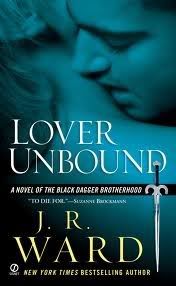 Be a follower of this blog and fill out the rafflecopter below. Be sure to stop by the other blogs for more great prizes. Please note becauae of mailing restrictions, this contest is only open to US entries.
a Rafflecopter giveaway