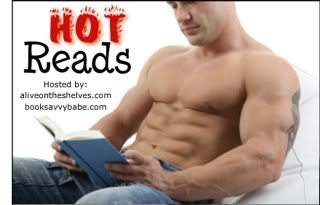 Do you ever read books that get you a little hot and steamy?  If you do, join in Hot Reads and share some of your favorite sexy reads and find some new ones!
Hot Reads is a Monthly Meme, hosted by Book Savvy Babe and Alive on the Shelves, where we get to share our hottest read of the month!  Your choice can be any book, it doesn't matter the genre, the length, whether it's new or old.  If you read it during the month, and it raised your temperature, it qualifies to be a HOT READ!  To make things as simple as possible, Hot Reads will take place the 28th day of the month.  So every month, be ready to share your HOT READ pick!
IMPORTANT: Due to content, this meme is open to participants 18 and older ONLY!
How To Participate:
Pick your HOT READ of the month (ex. on March 28, you pick your HOT READ for the month of March)
Make a blog post sharing your Hot Read pick.  Include in the post: book title, author, HOT READ button, and links to the hosts.  If you would like to include book teasers, book review, etc feel free!
Add the link to your post in the linky  at a host site and visit the other blogs to see what others chose as their HOT READ! (you only need to enter your link 1 time)
As always, don't forget to spread the word! (help us out by tweeting, facebook, etc)
Now, a HOT READ doesn't have to be hard-core. Maybe the author's photo made you hot! Maybe the cover art — all those broad shoulders and rippling abs — raised your temperature. Maybe there was just a scene or a setting that made you squirm in your seat — those all qualify! After all, we don't all have the same taste in men (or ladies, pick your pleasure), so why should we have the same taste in HOT READS?
Thanks for joining in this meme, we can't wait to learn your Hot Read!  The linky will remain open until the end of the month.
My March HOT READ:
Broods of Fenrir by Coral Moore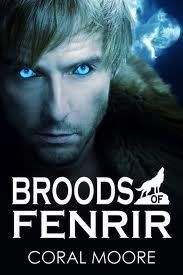 Shapeshifter Brand Geirson was raised to rule the Broods of Fenrir, but he refused his birthright. Instead, he killed their brutal leader–his own father–and walked away.

For hundreds of years he's avoided brood society, until a werewolf kills an innocent human woman and Brand finds himself dragged back into the violent politics of the shapeshifters. When the two brood women who mean the most to him come under threat, he must take up the throne and risk becoming the kind of vicious bastard his father was, or let the broods descend further into chaos–taking the friend he swore to protect and his lover with them.

This was a really good book and I'm so glad I read it. Its the perfect take in werewolvews I've read in a while. These wolves are scary and I LOVED IT. Add to your TBR pile quickly.