Hosted by Books, Biscuits and Tea & Nyx Books Reviews. I joined this challenge in a attempt to clean up my review pile. So today (and this post is late....blog issues) I'm going showing off my pile and here we go...
eBooks
Growing Up Wired - David Wallace Fleming
To the Cliffside - B. Jane Lawson
The Baby Trap - Sibelle Hodge
Cruising Towards Love - Christi Barth
Broods of Fehnir - Coral Moore
Lord Keeper - Tarah Scott
Huntress for Hire - Ali Atwood
Curse of Gremdon - Sandra Knight
Blood Avenged - Gabrielle Bissette
Marooned In Miami - Sandra Bunino
Fire Baptized - Kenya Wright
Timeless Heart - Karyn Gerrard
Relic - Deena Remiel
Hawthorne - Sarah Ballance
Alex's Angel - Natasha Blackthorne
Guardian of Fate - Laura Kentowski
Beneath the Starry Sky - Jessica E. Subject
Eyes of Constance (Beast Series) - Leanore Elliot
Broken - Dean Murray
Hardbacks & Paperbacks (some from my personal pile)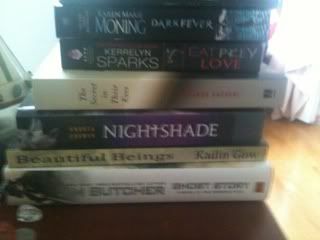 And I just got these is the mail yesterday. Barnes & Noble had a great sale on their paperbacks...$3.99 each. (my personal pile)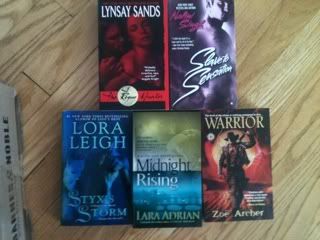 There's a couple more, but let's not get crazy here...lol! Well what do you think? Can I do it? Hells Bells I hope so...
I'm reading Alex's Angel now...love Natasha Blackthorne, she is becoming one of most favorite authors.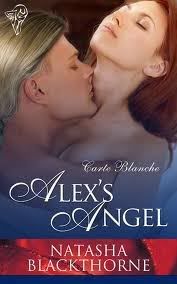 Thanks for stopping through...MUAH!
Sharonda (SexxyBlogger)