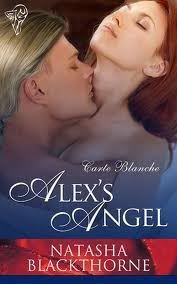 Published: February 27, 2012
Format: eBook ~ Review Copy
Series: Carte Blanche #3
Available: Total-E-Bound
Book Blurb (Goodreads):
Book three in the Carte Blanche Series
He needs her to believe in him a lot more than she needs his protection...
In the wake of a devastating epidemic, sheltered Emily Eliot finds herself alone, making her own decisions for the first time. When desperation leads her to sell her virtue, she walks straight into trouble.
Enter one gorgeous, golden haired gentleman bent on protecting her.
Alexander Dalton came to the Blue Duck Tavern seeking to lose himself in sexual pleasure. But when he saw the delicate and vulnerable young woman, he couldn't turn away.
Emily is alarmed by her own intense responses as this charismatic and carnal man introduces her to erotic pleasure. Having lived as a virtual prisoner of her grandmother's suffocating manipulation, Emily bridles under Alex's possessive, protectiveness. And Alex's charming smile hides a dark secret that could destroy their chance at happiness.
Will their passion burn them up or bring them together?
Reader Advisory:This book is part of a series. This story contains sensual spanking, wild-eyed Jacobin ideology and a cameo of Thomas Jefferson.
My Review:
Alex's Angel take place before Grey's Lady. You actually meet Beth's father Peter, as he's Alex best friend and lawyer I believe. Alex is a self made man. He comes from a privileged family, but sold the family business. He has a troubled past and believes he is unworthy of love, so he lives his life with questionable women and traveling all over the world. He's running from himself and slowly self-destructing.
Emily is in dire straights. Her only relative, her grandmother has died from the plague and she is left alone. So to make ends meet, she takes a job at a local pub as a prostitute. Mind you, Emily is a virgin and has no idea what she needs to do at her new job.
All I can say is thank good goodness that Emily ran into Alex on her first night because she was a mess. I know she had to do what she had to, but it just was not in her.
I have to say Emily irritated me. She made up her mind and that was it. Which is good, but not all the time. But she was young, 19 and I had to keep telling myself that has I read. Alex had a lot of patience and I gave him a lot of credit. Because I wanted to throttle Emily. She didn't trust Alex and although he and several people told this is what she should do, she didn't. She eventually came around when it was almost too late.
I'm becoming a steadfast fan of Natasha Blackthorne. She writes the most heated, sexually charged historical novels that I've read. And its not just the sex in these stories that keeps me coming back, but its also her writing. Its just fabulous, it's the main reason why I'll keep reading her books. She's taking women from a period where you were actually only seen and not heard and she's empowering them.
These women are strong mentally, physically and sexually and they are taking control of their sometimes dire situations. But lets not forget the men in these stories. They are strong men, A man's man. Men who expects a lady to act as a lady should, but still remain the strong woman she is.
All and all, another awesome read. I LOVED it. Please pick this one up and any other book in the Carter Blanche series, you will not regret it and you will definitely be hooked.
My Rating:
5 Kisses ~ This one is a tongue kiss and then some...lol!
My favorite part:
Was when Alex asked Emily if she ever fucked in a alley. It was such an intense scene, I was shaking my head like he was talking to me.