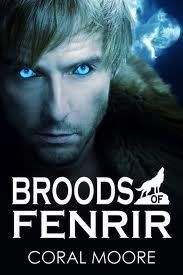 Published: November 27, 2011
Format: eBook
Available:
Amazon
,
Barnes & Noble
Book Blurbs (
Goodreads
):
Shapeshifter Brand Geirson was raised to rule the Broods of Fenrir, but he refused his birthright. Instead, he killed their brutal leader–his own father–and walked away.
For hundreds of years he's avoided brood society, until a werewolf kills an innocent human woman and Brand finds himself dragged back into the violent politics of the shapeshifters. When the two brood women who mean the most to him come under threat, he must take up the throne and risk becoming the kind of vicious bastard his father was, or let the broods descend further into chaos–taking the friend he swore to protect and his lover with them.
Contains Strong Language, Violence, and Sexual Situations.
My Review:
Here is a story of WEREwolves. It is written the way wolves should be written. It reminds you of why you should fear werewolve; because these shifters are savage, fierce and violent. I loved every aspect of this story.
You have Brand who is supposed to be king, but walks away after killing his father who was king before him. This wolf doesn't want the job, but Brand is about to be drawn back into this cold brutal world that he hates so much when his mate and two of his best friends are threatened.
I was so intensely insnared in Brand's story. Here you have this very powerful wolf who wants nothing to do with his world. And one cannot blame him, the Broods of Fenrir is a very brutal world.
This is a wonderfully written book and Coral will draw you into a emotionally charged story that will take hold of you from beginning to end. I hope this isn't the end of this world because as violent and raw it is, it is what will keep you reading it and want to read more of these complex cast of characters. Oh Ms. Moore, please tell me there will be more.
My rating:
5 Kisses - it's more than a tongue kiss, this is a deep sensual kiss
My favorite part:
When Brand's wolf came out. It gives you a glimpse into just how powerful he is. He even had is friend hauling tail away from him.
To find out about Coral Moore, please visit her website at
ChaosandInsanity.com
.
There is also a great website for the
Broods of Fenrir
.