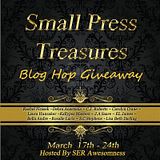 Hi All! And welcome to the Small Press Treasures Blog Hop. Hosted by the lovely ladies over at
Sam, Elena
and Rhonda's Awesomness.
The book I'm sharing is The Blood That Bonds by Christopher Buecheler.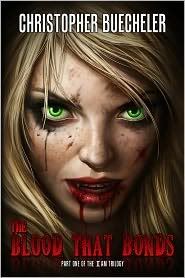 I had just purchased The First Edition NOOK and of course I was looking for some free reads. I was in a reading slump and needed something to read quickly. Well, I came across this jem and was immdediately taken away by its story. The author gives you an wonderfully fresh take on how vampires were and are created. The cast of characters are well written and the story will have you in a mixed state of emotions. I was laughing, crying....hell I was even a little angry. But I loved every page is this book and I immedidately stalked the author. Because I kept saying this can't be it, it just can't be the end. So I finally find Mr. Buecheler's website and was soooo very happy to see that this was going to be a trilogy...YES! The Blood that Bonds is still free on
Barnes & Noble
, so go grab it! Trust me, you will enjoy it (it's also free on Amazon too - for you Kindle owners)
I'm gifting one lucky commentor with the 2nd book in The II AM Trilogy along with a $10 Barnes & Noble eGift card. Please leave a comment about your first indie or smal press find. Did you enjoy it? Or not?
Just fill out the Rafflecopter.
a Rafflecopter giveaway
Also make sure you stop by the other blogs is this Hop for more chances to win some great prizes.