Hi Guys! Today Author Emily Cale is guest blogging today about Inspiration and her book Getting Ahead.
Please welcome Emily...
Finding Inspiration
The first few pages of any book seem easy to write. I always have at least one scene in my head and it pours onto the pages as though I've always meant to write the story. Then I get stuck. What else am I going to write? I find that what I really need is a bit of inspiration for the rest of it. A song, a television show, or a picture that brings to mind the feeling of the story I'm trying to tell. That way, when my moments of writer's block start, I can go find that thing and start working again.
For Getting Ahead, I knew I needed a big piece of inspiration. The story had been swirling around in my mind for so long, I felt as though I should be done with it already. I grew up in Wyoming, where country music is played in every bar, shopping mall, and car, so I've developed a healthy appreciation for it. So, I went to my playlists and developed one with all my favorite artists. For Amber, Reba McEntire featured heavily. I love the sound that her music has and how every song tells a story. For me, she'll always be the ultimate female country singer. I saw her live once. Sadly, I was three and don't remember a single minute of it.
For Colt, I needed something a little calmer. He may be stubborn, but he knows when to shut his mouth. Eastin Corbin came to mind immediately. I saw him at his debut on the Grand Ole Opry stage, and he struck me as the perfect voice for Colt, especially his song "A Little More Country Than That."
Does music inspire you? Who do you like to listen to when you need a dose of inspiration?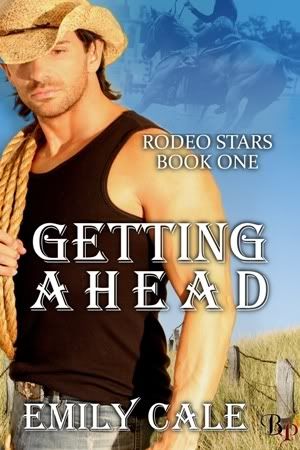 Getting Ahead Blurb:
Colton is exactly the kind of distraction Amber doesn't want, but he might be exactly what she needs to get back on track.
Recovering from a bad fall during competition, Amber McDonald decides to spend her last week of training before her next rodeo at a Colorado ranch, away from any and all distractions. It'd be the perfect arrangement—if only her fear wasn't stopping her from getting back on her horse.
Then Colt Riley steps in. He's sexy and seems to have incredible insight into her situation, but he's everything she's been trying to stay away from.
Colt knows exactly what Amber is going through...because he's been there before. Forced to give up his riding career after an accident, he sets his mind to helping her get back on track. All that's easier said than done, especially when she discovers his hidden past. Will his efforts be enough to help her get ahead?
Buy Links:
Publisher: http://www.breathlesspress.com/getting-ahead
Amazon: http://www.amazon.com/gp/product/B007B25V7M/ref=as_li_qf_sp_asin_il_tl?ie=UTF8&tag=wwwbreathless-20&linkCode=as2&camp=1789&creative=9325&creativeASIN=B007B25V7M
All Romance ebooks: http://www.allromanceebooks.com/product-gettingahead-728018-340.html
Author Bio:
Emily Cale spent the majority of her childhood as a visitor to the worlds of her favorite authors. With encouragement from her English teachers, she put pen to paper and began imagining her own stories. Preferring the fascinating lives of her characters, she majored in creative writing. When not lost in a manuscript or a good book, she enjoys crocheting, rock climbing, and playing board games. She currently lives in Pittsburgh, Pennsylvania, with her husband and a very spoiled cat.
You can find Emily online on her blog (http://www.emilycale.blogspot.com) or on Twitter (http://www.twitter.com/emilycale.