Hosted by Sizzling PR and part of the Hot Bods Tour, today we are get to meet Skylar and Drew from Lacey's book Fool Me Once...
Lacey: Thank you so much for having us here today. I'm really glad that Skylar and Drew have taken time out of their lives to let me interview them.
Skylar: I don't mind, today was boot camp day. That day is starting to become my least favorite at Hot Bods Gym.
Drew: Anytime I'm out of the office is a good day in my book.
Lacey: So tell me Drew, has Skylar forgiven you yet for leaving her alone after that hot weekend and never calling?
Drew: **Rolls eyes at Lacey** Did you really have to bring that up? I hope **turns to Skylar** that she has. I think I've done everything I could to show her just how much I love her and I never want to hurt her again.
Skylar: **Squeezes his hand** You have.
Drew: Good. **Gives her a light kiss on the cheek**
Lacey: Okay, let's cut that out. I know exactly where one simple kiss between you two can lead. Are there any plans in the future to moving in together?
Skylar: We've talked about it, but I'm not sure. I don't want to leave my BFF Amy hanging. She has had no luck finding Mr. Right. Hopefully she does soon though. But for now, we just have sleepovers and it seems to be working. We get alone time when we need it. We have our entire lives to figure out a wedding date and all that other stuff.
Lacey: So, is it official yet?
Drew and Skylar: Maybe
Lacey: I think it takes a special man to be able to deal with your feistiness Skylar. Is Drew the one who can?
Skylar: God, he better. We've been through way too much for him to not. Don't you think Lacey?
Lacey: Oh yeah. Drew you better not ditch and run again.
Drew: That is the last thing on my mind.
Skylar: It better be!
Lacey: Does Francesca still come to Hot Bods?
Skylar: Really Lacey, you have to bring her up? **Rolls eyes** Yes she does. But we keep our distance. I suppose when your under contract with a gym it isn't exactly simple to just find a new one. She hasn't taken any of my classes. She is typically in the cardio area when I see her.
Lacey: Do you see her Drew?
Drew: Uh…not on purpose. She is a nice girl, really. Just needs a little guidance.
Skylar: You're not the one to be giving it to her.
Drew: I know. Lacey, can we change the subject to something else?
Lacey: Sure. Sorry about putting you in the hot seat. How about we get this over by you telling me what your favorite thing about the other one is. Drew, you first.
Drew: I love everything about Skylar. She's perfect. She is beautiful, speaks her mind—even when its directed toward me. Skylar will help any friend in need. And for whatever reason, she puts up with me and loves me. I couldn't ask for a better partner in life.
Skylar: Awe, you're so sweet. My favorite thing about Drew is his c---, oh sorry that might be inappropriate. My favorite thing is that he always makes me feel special and like I'm the only one who matters.
Lacey: I can see by the way you two are looking at one another; you are more than ready to get out of here. So, I won't keep you love birds. Thank you so much however for taking the time to chat with me.
Skylar: Anytime Lacey! Without you, we wouldn't have our happily ever after.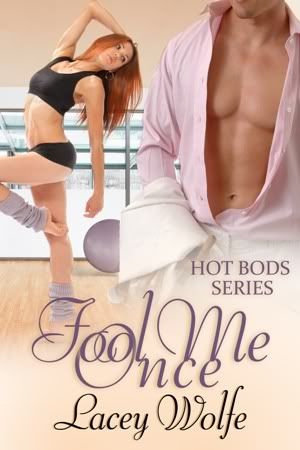 Fool Me Once (Hot Bods, #1) by Lacey Wolfe
Fool me once, shame on you. Fool me twice…
Drew is the last person Skylar wanted to see across from her at a local bar. A month ago he'd wined and dined her all weekend, leaving her feeling fully in love, but then she awoke alone in an empty hotel room and she hadn't heard from him since.
The weekend Drew spent with Skylar was phenomenal. There had never been anyone who made him feel as complete as she did. He shouldn't have disappeared, he should have called, but his feelings for her scared him, so he distanced himself. But when he saw her again, he knew he couldn't stay away any longer.
Skylar's determined not to give Drew another chance to hurt her, but he's just as determined to win her back. Although it won't be easy, he's up to the challenge, and he's willing to do whatever it takes to accomplish his goal.
Content Warning: Explicit Sex
Amazon / Nook / BeachwalkPress/ _AllRomance / Bookstrand
To learn more about Lacey, visit www.laceywolfe.com
To connect with Lacey:
www.twitter.com/LaceyWolfe
www.facebook.com/AuthorLaceyWolfe (fan page)
www.facebook.com/WolfeLacey
The second book in the Hot Bods series is also available now, More Than Useful.
Thanks for stopping through Lacey. Be sure to catch my review of Fool Me Once.
Sharonda (SexxyBlogger)