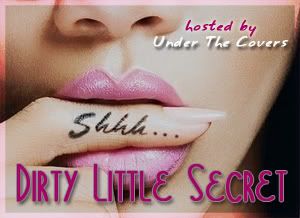 Dirty Little Secret is a weekly meme hosted by
Under the Covers
. Every Thursday we get to know other bloggers and our readers more intimately by asking them a question hoping to reveal their dirty little secrets. We hope that you will all join us!
To participate in the meme all you need to do is:
1. Be a follower of Under the Cond copy instructions.
2. Create a post in your blog taking the memeimage(codeabove) and copy instructions.
3. Answer the question we propose! This can be done in any way you like, post a video, write a post etc.
4. Then add your link back at
UTC.
Non-bloggers: We want to hear from you as well!!! Let us know your answer in the comments!
We hope you join us and let us know your Dirty Little Secrets!
This week's question: Who is your favorite flawed hero and/or heroine and why do you still love them despite their faults?
Yeah...hard question this week Ladies, but who wants a perfect man anyways...lol! I'll have to say Lothaire from Kresely Cole's IAD series. The man was and is still seriously messed up...even after he found his bride. He just wants what he believes is his and he does just about anything to get it. But that is what I like so much about him. I know crazy...right? IDK, maybe it's those red eyes oh so blond but damn near white hair :)
What about you???