Today, Vanna Smythe is going to talk about her book The Protector, Book One in The Anniversary of The Veil Series.
Will Love Restore the Balance?
Protector is based on two things: twin souls and the energy of love. The belief in twin souls, that is a soul mate in the form of your one true love, existing somewhere in the world and pulling you towards them relentlessly and ceaselessly is the underlying theme of Protector, and the entire Anniversary of the Veil series. Only, in this world that I created the energy released when two twin souls find each other is used for purposes that are not altogether enjoyable for the pair.
In my world, for centuries Joinings of such strong love, and the energy they release, have been used to build bridges and tall buildings, stem the flow of rivers, even change the duration and force of seasons. One thousand years ago, energy from one such pair was used to separate the world in half by a barrier only a select few can cross. On one side of this barrier, or Veil as it is called, they have continued with the forced Joinings, while on the other side the practice was eradicated. This was achieved mainly through the means of keeping the people ignorant, and under the complete control of the Priesthood. The priests rule the realm from the shadows. Among other things, they also decide who can marry whom, so as to prevent any natural Joinings of love from occurring.
Protector takes place at a time when the fate of this barrier must be judged. The decision of whether the Veil should continue to stand, or if it is time to let the world be whole again must now be made.
Princess Issiyanna is one of a pair, called to her other half, her twin soul. She is ignorant of her true purpose, steered to go along and find her love, not knowing that a Joining waits at the end of her journey. Unbeknown to her, she is loved from a distance by Protector Kiyarran, a soldier assigned as her bodyguard and the one whose role, whose decision, could decide the fate of all.
How long can a world where something as natural as the energy of love is twisted and used for artificial purposes exist? Will love prevail and restore the natural balance of things? What price must be paid? Answers to all these questions, and more wait at the end of the Anniversary of the Veil series.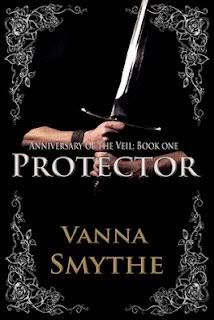 Book Blurb:
Kiyarran always wanted to be a Protector of the Realm. Untold magic and forbidden love for Princess Issiyanna awaken inside him once his wish comes true. Now the Priesthood that rules the realm from the shadows see Kiyarran's extraordinary skill as a threat.
Issiyanna is needed for a reaction on the other side of the Veil—a man-forged barrier separating the world in half. A Beacon and Answer gave up their lives to Don the Veil 1,000 years ago. Issiyanna is a Beacon needed to renew the Veil.
Issiyanna is abducted by a group of Keepers from across the Veil, and Kiyarran follows to save her.
Will he choose to bring her back, or run from all he knows to follow her across the Veil? Will Kiyarran fulfill his duty as a Protector, or allow his love for Issiyanna to guide his future path?
Magic, loyalty, childhood friendship, greed, and love all clash as Kiyarran is forced to make his decision.
About the Author:
Vanna Smythe is on a quest to become a (bestselling) fantasy author. Right now, it promises to be a dangerous quest, full of questionable, powerful magnates, laced with pitfalls of obligation, and dreams. So it is good that she does not mean to quest thus alone. To keep her company along the way, she has enlisted the help of an incredible cast of characters. For the moment, they are a confident boy who must learn many things anew, a girl who would like nothing more than to live in endless summer, four who wish things were different, and one who will do all to keep things the same.
As she travels with them, they are slowly reveling their world, and who they are, to her, challenging her to look beyond what is easy to see. These characters may be from a different time, a time long ago, a time that never was, but they could all be here today, forming a part of your inner circle of friends.
Trying to understand them better, her blog will feature an array of posts on the way of life in the Middle Ages. Vanna has lived in European cities, which have sprung from former medieval towns, for most of her life. She has visited many more such cities. Maybe this is why she feels such kinship with her cast of characters. She hopes you will grow to love them also.
Vanna also needs your help, because a story without a reader is like mist before the sun.
You can find her here:
Blog: www.vannasmythe.com
Twitter: @Vanna_Smythe
Facebook: http://www.facebook.com/VannaSmytheAuthor
Amazon US: http://amzn.to/xLusPP
Vanna is also offering a $10 Amazin Gift Card as part of the Tour. Go
HERE
to fill out the Rafflecopter.
Thanks for stopping through!