Hi Guys,
Today I'm shining my salacious light on Stacey Kennedy's Demonically Tempted, Frostbite Book Two.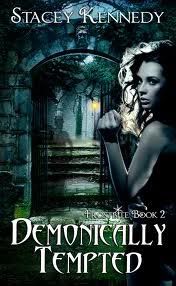 Urban Fantasy Romance
Length: Novel
Heat Level: Sensual
Price: $2.99
Kindle All
Romance Ebooks
Smashwords

Tess Jennings, now a member of the Memphis Police Department, is on her first cold case. The suspected suicide of Lizbeth Knapp ten years ago isn't a theory her family accepts—they believe she was murdered.
But the case is only one of Tess's worries. Ghosts are talking, and word of her abilities rapidly spreads. A dark ghost is terrifying the spirits of Memphis, and she must force the entity to cross over.
Tess doesn't have to do this alone. Not only does she have her ghost-lover, Kipp McGowen, but the department has brought in a medium. Dane Wolfe might answer all her questions, but he also brings a world of trouble. Will Tess finally have all she's ever wanted, or will everything she's vowed to protect be ripped away?
Teaser
Copyright © STACEY KENNEDY, 2012
Chapter One
The old farmhouse had seen better days. Not only could it use a coat of paint, but it also needed a dose of love. Dry, brown grass surrounded the home, and the only flowers topped four-foot high weeds.
I glanced next to me at Zach—a cop with the Memphis P.D.—and crinkled my nose. "Someone actually lives here?"
His blue eyes met mine and he ran a hand through his blond, stylish hair and shrugged. "Max said the victim's sister still resides in the home where the death happened."
As he lowered his arm, he cringed, and I winced at the memory. Heck, only weeks ago he'd been stabbed and shot in the shoulder.
The man who caused Zach's injury got it worse—by my very hand, no less—but I was glad Hannah Reid's murderer hadn't returned to haunt me.
I might have suffered some serious remorse. That is, if I didn't believe God wouldn't punish me because I killed a murderer. Brody would've done the same to me if I hadn't gotten to him first. I tried my best to stick with that theory. It saved me from the lingering guilt I might—and would never admit to—have for taking a life.
Now for the giveaway. Stacey has offered to giveaway a book from her
BACKLIST
, readers choice. Just fill out the rafflecopter below...that's it.
a Rafflecopter giveaway