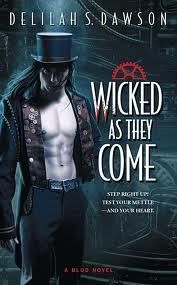 Published: March 27, 2012
Format: Paperback
Series: Blud #1
Available: Barnes & Noble and Amazon (eBook & Paperback)
Book Blurb (
Goodreads)
:
Have you ever heard of a Bludman? They're rather like you and me—only more fabulous, immortal, and mostly indestructible. (They're also very good kissers.)
Delilah S. Dawson's darkly tempting debut drops her unsuspecting heroine into a strange faraway land for a romantic adventure that's part paranormal, part steampunk . . . and completely irresistible.
When Tish Everett forces open the ruby locket she finds at an estate sale, she has no idea that a deliciously rakish Bludman has cast a spell just for her. She wakes up in a surreal world, where Criminy Stain, the dashing proprietor of a magical traveling circus, curiously awaits. At Criminy's electric touch, Tish glimpses a tantalizing future, but she also foresees her ultimate doom. Before she can decide whether to risk her fate with the charming daredevil, the locket disappears, and with it, her only chance to return home. Tish and Criminy battle roaring sea monsters and thundering bludmares, vengeful ghosts and crooked Coppers in a treacherous race to recover the necklace from the evil Blud-hating Magistrate. But if they succeed, will Tish forsake her fanged suitor and return to her normal life, or will she take a chance on an unpredictable but dangerous destiny with the Bludman she's coming to love?
My Review:
Ok...what a read. My first paranormal steampunk read and I wasnt disappointed at all.
Tish, a nurse comes across a locket at an estate sale of a patient she use to care for. But this is no ordinary locket, this locket was made to find her...magically that is. Later that night as Tish sleeps, she THINKS she's dreaming about a different world and this strange man that seems to be a part of it, but she's not...
Story and character development was on point. I thought everything was explained without over doing it or missing anything. This is a story of love and alternate reality. Hell, if you cant find it in your world, look for it in another and that is what Criminy Stain did. All of the in betweens was just an added bonus supplied by the author.
You can't but help to like the characters in this book. Ms Dawson draws you into a world that is a bit overwhelming, BUT easy to love as you read on.
This world of Sang is built on Blud and it is not easy place to live if you are a blud person or just piss ass poor. Tish finds this out as she fights to find a way home and also TRY to stop her heart for falling for a circus ring leader who has waited for her for a very long time.
Scariest things in this book, the ANIMALS! Blud Bunnies, Blud Rats and Blud Mares?!!! Hells Bells!
Funniest thing in this book, the dialogue between Criminy and Tish...too much and I loved it.
Several songs came to mind while I was reading this book and they are
Scars - Basement Jaxx
Whats a Girl Gotta Do - Basement Jaxx (erm from Criminy's POV, just replace the girl w/boy...yada, uada)
We found Love - Rhianna


Eh? What do you think Poppets?

Rating:
5 Kisses - Tongue/French Kiss (Hot Damn! It's a Keeper - I Highly Enjoyed It)

**Book Purchased by myself from Barnes & Noble.