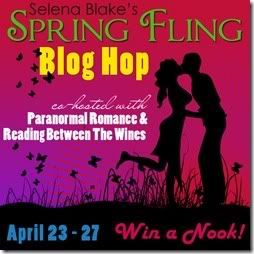 Hi Guys and welcome to the Spring Fling Blog Hop hosted by Serena Blake, Reading Between the Wines and Paranormal Romance.
So Serena had some questions for the participants of this hop...
What made you start a blog?
Well, I just wanted to share my thoughts on the books I was reading and then I came across all these lovely book blogs where people were doing the same thing I wanted to do amd of course I was hooked. I've been doing this since August 2011, I'm still young compared to some of the other blogs out there; but I love this and I've met some pretty awesome people :)
Have you had any major fan-girl moments since you started it?
Can't say that I have yet, but maybe something will happen soon, who knows.
Dream blog guest?
Hmmm....I gotta say Jim Butcher. I simply love his Harry Dreaden series, it's just ridiciously awesome!
Favorite cover model? Hell...any man...that is any bear, muscled chested good looking man...holla!
This time, I'll be giving away a $10 Barnes & Noble eGift card (US). You have to be a follower of this blog by any of the options available here on my site. Fill out the Rafflecopter and make sure you stop by the other blogs to win more great prizes.
a Rafflecopter giveaway