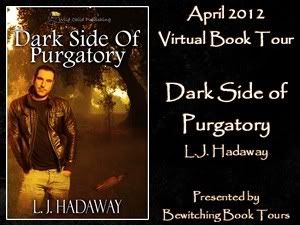 Published: February 6, 2012
Format: eBook (Review)
Available:
Amazon
,
Barnes and Noble

Book Blurb (
Goodreads
):
Everyone knows Jaxon Slater. He's the life-of-the-party guy. He's the fun guy we want to invite to our outdoor barbeques but not marry our daughters. He is our nephew, the next-door neighbor who drinks too much, a friend of a friend that overdosed on heroin. He's the class clown in high school that was always in trouble from drinking and driving.
Jaxon Slater has 'pushed the envelope' and tried to scam his way through most of his life. He's charismatic and good-looking. Many things come easy to Jaxon. Sobriety isn't one of them. He's tried staying clean numerous times but always falls into a relapse, using one more time. His long time sponsor had warned him plenty. His last use of heroin landed him dead--in Purgatory.
Jaxon believes he is having a terrible nightmare until he finds an old friend and recalls how he died. Reality sets in and Jaxon begins to learn the rules of the strange land. He runs into a mean bunch of guys and an unlikely guide. To have a chance at saving himself, he must complete a quest: find a certain young woman and steer her away from the highway of destruction that killed him.
Old temptations linger, and dark forces shadow his path. Can Jaxon survive the abyss of his deepest fears to find redemption?
My Review:
After a hard life of drugs and partying, Jaxon Slater is dead and in Purgatory. And he doesn't even know it.
He is now giving the chance to redeem himself by saving the life of an young girl Dale. He has to stop her from making the same bad choices he did and also ending up in the same predicting circumstances as himself.
This is a very raw and emotional story. Ms. Hadaway draws you into this story and you just want everything and everyone to prevail. I love stories like this and I so appreciate it when a author does that. This is a very intense book and when the author says the story is one of addiction, recovery and hope. You cant help but believe that as you read.
Highly recommended.
My Rating:
4 Kisses (Still Hast...I really enjoyed it)