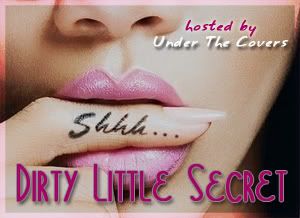 Dirty Little Secret is a weekly meme hosted by us at Under the Covers. Every Thursday we get to know other bloggers and our readers more intimately by asking them a question hoping to reveal their dirty little secrets. We hope that you will all join us!
To participate in the meme all you need to do is:
1. Be a follower of Under the Covers.
2. Create a post in your blog taking the meme image (code above) and copy instructions.
3. Answer the question we propose! This can be done in any way you like, post a video, write a post etc.
4. Then add your link back at
UTC
.
Non-bloggers: We want to hear from you as well!!! Let us know your answer in the comments!
We hope you join us and let us know your Dirty Little Secrets!
This week's question:
If you could read one book again for the first time,
which one would you pick and why?
for me, it would by Acheron (Dark-Hunter Series #16) by Sherrilyn Kenyon
I enjoyed all of the Sherrilyn's DH books I've read, except for One Silent Night.
But Acheron was just one of those books I fell in love with. His character was just so beautifully written and I just couldn't help but feel so sad for him and the life he had before he became a God. If you read this book and don't cry...then something is not right. I was so damn happy when I finally found someone to love him. Acheron caught my heart from start to finish, and the added bonus was he was sexy as all get out.
I was blown away with the story and this is one book I will keep on my shelf and re-read for a very long time.
Now what about you? what's your re-readable book...