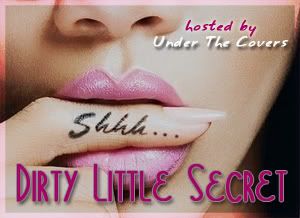 Dirty Little Secret
is a weekly meme hosted by us at Under the Covers. Every Thursday we get to know other bloggers and our readers more intimately by asking them a question hoping to reveal their dirty little secrets. We hope that you will all join us!
To participate in the meme all you need to do is:
1. Be a follower of Under the Covers.
2. Create a post in your blog taking the meme image (code above) and copy instructions.
3. Answer the question we propose! This can be done in any way you like, post a video, write a post etc.
4. Then add your link back at UTC.
Non-bloggers: We want to hear from you as well!!! Let us know your answer in the comments!
We hope you join us and let us know your
Dirty Little Secrets!
If we were unforgivably rude and snatched your purse from you, what would we find inside?
Well, generally you'll find the following.
My Nook
A Book (paperback)...right now I have Blood Oath
Wallet (with not very much in it...there are receipts, contact cards, and there is a credit card...but I don't think you would want to use it).
Tissues
Make-Up (for me, that would be lip gloss & mascara)
Papers (a little bit of everything, work, kids school stuff, bills, etc.)
My pocket calender...thanks mommy ;)
& right now, there is also a sweater in there...go figure...
On most mornings, you will also find my breakfast (McDonald's coffee & a oatmeal) and also my lunch
so what about you?