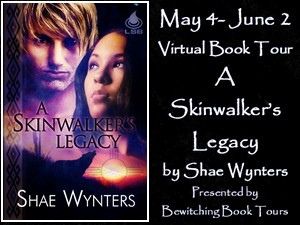 Hi!
Please welcome Shae Wynters today. She'll be talking about her book Skinwalkers...there will be also be a giveaway. Just fill out the Rafflecopter at the end if this post.
The Legacy and the Legend
The Skinwalker legend of the Navajo has always fascinated me. From the fascinating stories themselves to the beautiful culture and colors of the tribe itself, the setting was ripe for creating a fun suspenseful and sexy tale of forbidden love, unsolved crimes and an inherited title.
I've always loved fantasy fiction and when paranormal romance and urban fantasy romance came about, I was ecstatic to dive in and tell my own stories. Second to these was my love of romantic suspense. I must admit, I'm a huge fan of the Lifetime suspense movies that come out in marathon form on the weekends and in blocks on the movie channel. I also love reading sexy suspense stories, namely Suzanne Brockmann's Tall Dark and Deadly series and the Troubleshooters and any Genesis Press suspense books I could get my hands on. Mixing the suspense aspects with paranormal/fantasy genre made this a super fun book to write.
The story revolves around Lexia Torrance, a young woman who fights with her ability to see crimes after they happen along with her changing body as her Skinwalker genes take over. One day she 'sees' a crime that changes her life: a group of men commit a murder while searching for her. Her life is thrown into chaos when the men find her. Thankfully she has a guardian who has been watching her over the years. Her guardian is Galen Cortes, a half fae half Skinwalker guard of the Southwest tribe. Galen takes Lexia to a safe location where he helps her hone her skills. He also tells her of the dangerous, murderous prince who betrothed to her and is eager to use her in usurping the tribe. Time is running out for Lexia to hone her Skinwalker skills while both are falling in love with each other.
I loved writing A Skinwalker's Legacy. I had a chance to create my own world with it's own rules and I had a chance to throw in a few twists and turns that hopefully caught some readers off guard. I hope readers enjoy the tale and look forward to more possible works in the world of A Skinwalker's Legacy!
~Excerpt~
Lexia Torrance didn't know when the soft classical music streaming from her television disappeared into the silence of her mind. Her conscious thought transitioned into the hushed, wistful nature of her dream state. She was like a cinematographer, now standing back and watching herself buried under the covers.
She was somewhere else.
The shadows creeping around the rooms told her it was nighttime. A warm glow of red, yellow and orange flickered from around the corner. She felt herself floating toward that room and as she turned the corner, she saw a tall figure.
The tall man wore a red flannel coat and blue jeans. His long, dark hair fell down his back. He was large, a mixture of both muscle and body fat beneath his bronze skin. He turned around with a gasp and his expression quickly turned to anger. A strong handsome face stared back at her. The prominent bone structure told her of his Navajo ancestry. Perhaps he was from the same local tribe as her grandmother. He wore a colorful beaded necklace that reminded her of the one with the same design that her father had given her.
She couldn't turn to see who he was looking at, but she felt them. Thick tension, bitter and black as ink filled the air like a dark shadow. Something felt familiar about their presence but she couldn't quite figure it out. She watched the man before her stand to attention. His face, a shade of golden brown with strong cheekbones and a lined jaw was tense. His dark brown eyes focused ahead with a veil of hardness that was a visible defense.
"Where is it?" the man asked, gritting his teeth.
The man before her shook his head. "You have no right to be here. Leave now and I won't tell the council what you came for or what you're doing."
"You know who you're speaking to, Micah?"
"A deranged power hungry prince, that's whom. I won't help you on your sick quest for power. Not over the tribe or her."
Laughter filled the air, making her shiver from the ominous edge. "You have some moxie. I see why they gave it to you. But now it's time to give up the necklace before I really get pissed."
The man folded his arms and stood tall. "No one but the next Chieftess is to have possession of it. I've seen the way you look at it at the ceremonies. Like a power hungry lion waiting to catch its prey. Something is wrong with you and I'll see that the Chieftess knows about it before she makes a mistake."
The man named Micah made an attempt to move but was stopped by two other men in dark suits.
"Now, now Micah. You can't stop what is already in motion. Either you're a part of it or you're a victim. I've given you one chance for the former. Now here is your second. I want the trinket I came for and since you're so enamored with being the good warrior, I want the girl as well. Where is she? I know she lives in town."
"She isn't ready yet. She needs training."
"You know the fate of the one who stands between a Skinwalker and his mate?"
"You mean a predator and his prey."
That eerie laughter pierced the air again. "Whichever you choose. The end result will still be the same."
Micah's gaze darted from each man. Lexia wished she could keep up the count of how many were in the room. Even more, she wished she could turn to see the man speaking. Something told her she had to know and remember.
"I suppose you know where she is then?"
The man's face grew blank before he shook his head. "You won't find her."
The scene flashed and two men held Micah down on the ground. His shirt was open, baring his thick chest, while a smoking hand clutching an unseen item branded a mark on his heart. His screams echoed throughout her dreams. She had to wake up. Why couldn't she wake up?
She moved back to get a look at the man's torturer. But as he moved into her line of vision, a loud ringing filled her ears.
Lexia's eyes shot open into the darkness of the bedroom. The wireless phone blared to life on the table next to her bed. She looked outside the window where the night still claimed the city of Phoenix. The clear sky gave a view of a half-moon amidst the tall trees aligning her backyard. It took her a moment to realize that whoever was calling this late wouldn't give up until she answered.
She pushed herself off the bed with a sigh and yanked the phone off the cradle.
"Yeah? Torrance here," she said. Her voice was still heavy with sleep, and her mind still hummed with the loud, ear-piercing scream. Heat crept in her face as if she felt the man's skin burning away before her eyes. It felt so real. But it wasn't…was it?
"Sorry to wake you, kid," the familiar voice of her boss, Rudy, echoed over the receiver. "I tried your office first but when you weren't there, I figured you already crashed for the night. I would've let you sleep this one out but we're going to need your expertise. Dead body here looks like a ritual killing by a cult or gang. I'm running some tests to see if it fits any initiation MO's and we should have the results by morning. The vic's place looks like a robbery but there aren't any prints or signs that anyone was here besides the victim. No forced entry and only one room looks like a hurricane flew through it. Obviously they were looking for something and had an idea where it was."
Lexia wiped her eyes. "You think they knew each other?"
"It's possible but only speculation at this point."
"Sounds like you guys ran tests already." Lexia tried to focus on what little information she could deduce from Rudy's description despite her mind replaying pieces of the dream.
"What little we could but it would sure help if you could feel the place out for us. Tell us what they were looking for and when they hit. Things like that. I estimate it happened an hour ago so they couldn't have gotten too far."
"All right," Lexia leaned over to look at the digital clock on her nightstand. The red numbers blurred but she blinked a few times to clear her vision. Twelve forty-five. "I'll be there as soon as I can."
She waited until Rudy finished giving her the vic's address before she bid goodbye and hung up. Her mind was still on cloud nine as she tossed the covers off the bed and swung her feet onto the carpet.
The room had somehow grown warmer since she fell asleep as if a fire was burning nearby. Beethoven's Symphony No. 7 in Allegretto played from the digital music channel on the television. The light from the set illuminated her entire bedroom, cascading everything in a flicker of light against the darkness.
What just happened?
That was the first time she dreamed something so real. Normally when she fell into one of those dream states so quickly, it was when she was getting a feeling at a crime scene.
Lexia pulled her hairband out and shook her silky strands free around her shoulders. As she combed her fingers through her hair, she tried to coax herself back to the present. This was no time to have her head in the clouds over some crazy dream. She needed all her senses working tonight if she was going to be of any help to Rudy and his team.
Clearing her mind, Lexia immediately replaced any traces of the dream with the preparation for her investigation. First, she had to find something comfortable to wear. She had a feeling this was going to be a long night.
* * * *
Shae is giving away 10 copies of Skinwalkers.
a Rafflecopter giveaway
Book Blurb –
Lexia Torrance is a young woman with the gift of second sight. Her ability allows the Phoenix Police Department to solve crimes based on the gift of touch. Her latest case leads her to the body of a local man left with the killers' calling card—an emblem burned on the victim's chest in the shape of a sun. She soon finds herself facing five men looking for the necklace with the same emblem…and they are determined to find her as well...
Galen Cortes knows the immense ability deep inside Lexia as well as her destiny to take the throne as Skinwalker Chieftess to the southwest tribe. As a guard of the tribe, Galen has sworn to protect Lexia and teach her the truth about her powers. Despite what his heart feels, he knows a guard isn't supposed to get too close to a betrothed Chieftess. But his fiery passion may soon override his rational thought.
With a murderous Lycan tribe on their tail and only a few hours to spare once Lexia learns her birthright, Galen will only have a day to teach her what those before her learned in a lifetime. Before their time is over, passion will erupt between the guard and his ruler, a fateful battle will dawn between two tribes and a new Chieftess will arise within the nocturnal hours…
About Your Author
Shae Wynters is the pen name of an award winning, best selling author who has been writing for more than twenty years and has been professionally published for eleven years. A bonafide vampire, fantasy, sensual romance and speculative fiction lover, Shae sometimes meshes all these elements together for a rip roaring story to entertain her spectrum of readers.
http://shaewynters.blogspot.com
Thanks for stopping through ;)