Hi and Happy Memorial Day!
A big Thank You to all the men and women within every branch of the armed forces. Thank You for protecting everyone in this country to everyone abroad.
This isnt about one day a year. We must remember everyday, when they are home, injured and can nk longer care for themselves, we must care for and protect them.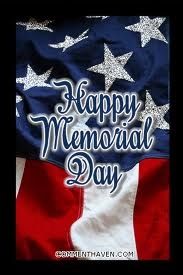 What Im reading this week....
Starting today, it will be..
Bared to You by Sylvia Day
and the the rest if the week it will be..
Warrior by Zoe Archer
The Zurian Child by Jessica E Subject
Wicked Allure by Leslie Ferdinand
Master's Hunt by Verity Ant