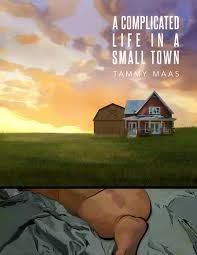 Published: February 27, 2012
Format: eBook (Review)
Available:
Amazon
Book Blurb (Amazon)
:
The road to hell really is paved with good intentions. Bitter that she was robbed of her childhood, at age eighteen, Lydia Lawson severed all communication ties with her alcoholic parents. Her father commits suicide one year after she leaves home. Twenty-three years later she receives word that her mother is dead and that she has inherited more than just the family home. Lily, a twenty-one-year-old, morbidly obese half-sister with Prader-Willi Syndrome, is found in the basement, too big to move out of the home. Lydia sets out on a life-changing journey trying to help Lily, trying to find Lily s father and trying to find herself. In the interim, she falls in love with Tommy Porter who remains with her right up to the climatic, mind-blowing reveal at the end.
My Review:
This story is as complicated as it's title. The more I read, the more I was pulled in.
Lord, I wanted to shake every last person in this book and I mean shake them hard. But the person I wanted to shake the most was Tom. I felt he was a very selfish man who wanted what he wanted and didn't care for anyone but himself.
Lydia had her reasons for leaving home and not returning...ever.
Imagine coming back to the home you so desperately wanted to get away from to bury your mother that you are enstranged from, but you also find out you have a sister and she has issues you never even could have imagined.
That is what Lydia is going through and there is more, but you have to read the book. The ending will have you like whoa!
Highly recommended read.
My Rating:
4 Kisses
(still hawt....I really enjoyed it)
About the Author:
Tammy Maas is a writer who moonlights as a domestic Goddess. Her debut Novella, A Complicated Life in a Small Town, is slated for publication on 2-27-2012. Tammy ghost writes for several online clients. She was published by Oatmeal Studios, and was a writer/photographer for Houston County News.