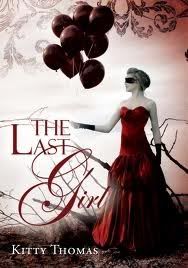 Published: February 14, 2012
Format: eBook (Review)
Available
(Author's website)
Book Blurb
:
The Last Girl Six years ago strangers broke into Juliette's house; she was home alone and only thirteen. She kept her eyes closed, praying that if she didn't see anything, she wouldn't be killed. No one harmed her. In fact, one of the thieves protected her. Now Juliette's dreams are haunted by him. Christian has waited to take her, resisting the urge each night. It always ends badly with human pets. They're too fragile. The longer he can wait, the better, because the moment he takes her, the clock on her life starts ticking down.Then she'll be gone forever.
AUTHOR NOTE
: This is a work of fiction, and the author does not endorse or condone any behavior done to another human being without their consent.
Warning:
This book is meant for a mature audience and contains master/slave, group sexual activity, sadomasochism, girl-on-girl, oral and anal play, exhibitionism, blood play, edge play, as well as one other thing I'm not warning you about because it would be a spoiler... but it's not a big taboo.
My Review:
This is my first time reading a book by Kitty Thomas and I have to say right off the back that I was blown away.
I really didnt know what to expect. This was a very a short but explosive read. The story started off slow for me, but gradually picked up. I wasn't sure if I wanted to hate Christian or if I felt sorry for him. And with Juilette, I just didn't know what to feel. They were both strong characters, but their story will leave you emotionally and mentally tapped. I believe one blogger put it as "you are totally mind fucked" and I have to agree.
All and all, I do recommend the book. The story and character development was excellent and Kitty definitely draws you into the story with her amazing writing skills.
Again this one is not for the mild reader and this story is not your average lovey dovey romance read.
My Rating:4 Kisses
Romantic Kiss (still hawt...I enjoyed it)