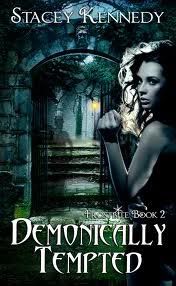 Published:April 13, 2012
Format: eBook (review)
Series: Frostbite #2
Available:
Amazon
/
Barnes and Noble


Book Blurb (Goodreads)
Tess Jennings, now a member of the Memphis Police Department, is on her first cold case. The suspected suicide of Lizbeth Knapp ten years ago isn't a theory her family accepts—they believe she was murdered.
But the case is only one of Tess's worries. Ghosts are talking, and word of her abilities rapidly spreads. A dark ghost is terrifying the spirits of Memphis, and she must force the entity to cross over.
Tess doesn't have to do this alone. Not only does she have her ghost-lover, Kipp McGowen, but the department has brought in a medium. Dane Wolfe might answer all her questions, but he also brings a world of trouble. Will Tess finally have all she's ever wanted, or will everything she's vowed to protect be ripped away?
My Review
You know I didn't read the first book in this series and I'm going to have to because I loved this story idea. It is so good.
This is book two in the Frostbite series and Tess now works for the Memphis police department as a consultant working on cold cases. She and Zach have to solve the cold case of a young girl Lizbeth Knapp who committed suicide.
And THAT isn't all Tess has to worry about. The ghosts in Memphis now know her name and about her abilities. And they want her to help them get rid of what they believe is a evil spirit. What Tess actually discovers is that there is a demon in Memphis and she has to stop it.
There was a lot going on in this story and it was all good. Tess was funny and I really enjoyed her spunk. I also loved the way she took her gift in stride, she really wants to help ghosts. I didn't care for Dane either (he was an ass all day) but I did agree with him that Tess should set boundaries with the ghosts she helps.
I also enjoyed relationship between her and Kipp. It was strong and you really believed in the connection between them. And may I ask....How can a ghost be that sexy?! Damn!
The ghost sex?...a little crazy to read. Don't get me wrong, it was hot as hell the way Stacey wrote it, but still a little crazy.
Tess is a brave and strong character and so is her supporting cast.
But what got me was the ending...oh hells bells, what a cliff hanger Stacey Kennedy! I was off my chair, pacing as I read. And I don't think I'll be the only one asking... Can we please push up the release date to like NOW!!!
My Rating
5 Kisses

A deep tongue kiss that will leave you breathless
****I have some swag to giveaway. Leave a comment below and two winners will swag provided by Stacey.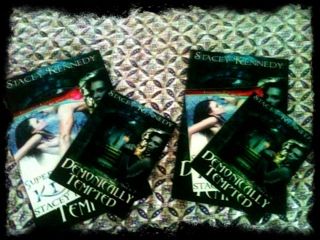 a Rafflecopter giveaway
**Book Provided by Author for Review
About Your Author:
Stacey Kennedy's novels are lighthearted fantasy with heart squeezing, thigh-clenching romance, and even give a good chuckle every now and again. But within the stories you'll find fast paced action, life threatening moments and a big bad villain that needs to be destroyed. Her urban fantasy/paranormal and erotic romance series have hit Amazon Kindle and All Romance Ebooks Bestseller lists. If she isn't plugging away at her next novel, tending to her two little ones, she's got her nose deep in a good book. She lives in Ontario, Canada with her husband. Be sure to drop her a line at www.staceykennedy.com, she loves to hear from her readers.