18 & Over Book Blogger Follow is a weekly feature that begins on Fridays and runs through the weekend, hosted by Crystal from
Reading Between the Wines
. This is a Friday blog hop with the objective to find and visit other book blogs that share the same interest as you, namely books geared towards the 18 & over crowd, and make some new friends!
How to join in:
-You should run a book blog that features and reviews mostly adult reads, some Y.A.'s are okay but 18 & over adult reads should be your majority.
-Make a separate post for the 18 & Over Book Blogger Follow on your blog.
-Copy the html for the button above and place it at the top of your post.
-List & answer the 'Question of the Week.'
-Place your name and blog title in the linky back & RBTWBC and the url for a direct link to your post
-Visit the other blogs on the list and say 'Hi!' Following each blog is not mandatory but I know it is always appreciated, and if someone comments saying they're a new follower it's polite to follow back. It's always nice to spread the 18 & Over Book Blogging love!
-Contact Crystal @ (readingbetweenthewines10 at gmail dot com) with any questions!
Question of the Week: If you could only gift one book to someone which book would it be?
mmmmm....good question, very good question, let's see...I would have to go with a current read too. And that would be Don't Call Me Angel by Alisha Wright Brewster.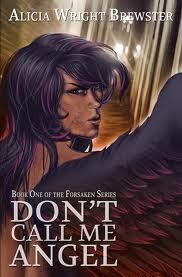 Not you typical Fallen Angel read. Her main character Six, I took a instant liking too an that's saying a lot for me because it sometimes takes me a while to warm up to the female lead. And the story was very good.
Thats it for me...now what about you?