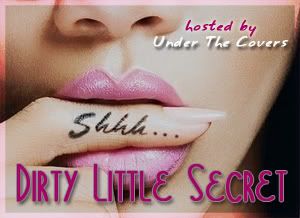 Every Thursday UTC gets to know other bloggers and readers more intimately by asking them a question hoping to reveal their dirty little secrets. So join us!
To participate in the meme all you need to do is:
1. Be a follower of Under the Covers.
2. Create a post in your blog taking the meme image (code above) and copy instructions.
3. Answer the question we propose! This can be done in any way you like, post a video, write a post etc.
4. Then add your link back at
UTC
.
Non-bloggers: We want to hear from you as well!!! Let us know your answer in the comments!
We hope you join and let us know your Dirty Little Secrets!
This week's question:
What book would you recommend to to heat up your summer!
dang Ladies...these questions! lol...let's see. I would have to say
Wicked Hot
by
Charlene Teglia
. It was my first erotica read & boy let me tell you...whew! the title fits. I'm also giving it away as p/o the Summer Nights Erotic blog hop
*shameless plug*
Also,
Destined for Two
by
Trista Ann Michaels
...my first threesome book and I loved it!
It's your turn...what about you? what would you recommend?