Published: March 20, 2012
Format: (eBook)
Available:
Amazon
/
Barnes & Noble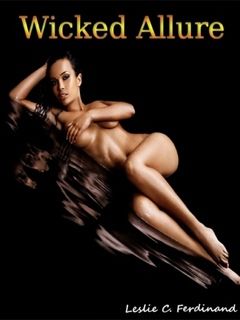 Book Blurb (Goodreads)
Multicultural Erotic Romance with Adults Only Content, explicit language and some drug use.
What Does A Man Say to the Woman He Betrayed But Never Stopped Loving?
Three years ago, Zachary Steele refused to entertain thoughts of permanency with any woman. A hedonist at heart, he didn't want to corrupt the much younger, Madigan DeLeon, by continuing his affair with her. With the hidden scars of his past, he didn't believe in happily-ever-after. By the time he realized how much Madigan meant to him, he'd driven her away. Then, one night, after being clean for a number of years, Zach briefly falls off the bandwagon. He believes his lovemaking to Madi is a drug-induced hallucination. The resulting consequences tell another story.
What Does A Woman Do When the Only Man She's Ever Loved Hurt Her So Deeply She Feared She'd Never Recover?
Three years after her affair with Zach so abruptly ended, celebutante, Madigan DeLeon, is thrust back into Zach's life by her mother's machinations. Brought home under the false pretenses of repairing her damaged relationship with her mother, Madi instead finds herself running a private sex club called Wicked Allure. Forced to confront her anger at his betrayal and grief at the loss of what might've been, Madi faces the realization that she's never stopped loving Zach.
Can Two Broken Hearts Set Aside Anger and Betrayal to Find True Love Once and For All?
Searching the deepest recesses of their hearts, in a place where pride and pain has no room, Madi and Zach must decide if their bond is strong enough to take a second chance at love. Or if resuming their sexual relationship is an irresistible wicked allure and the ghosts of their former relationship will finally, and forever, sever all ties between them.
Review
What a story...packed with all kinds of drama. And I both loved and hated it. I seriously wanted to murder a couple people, but I remembered that I was reading fictional characters.
This book read like a TV show...a good, addictive one. There are characters you loved and there are some you hate.
The story focuses on Zach and Madigan. Lovers who have been separated for three years after a very bitter break-up. They are forced back together family drama that will make your head explode.
Madigan's family never wanted her with Zach...thinking he was just simply not good enough for her. Zach loved Madigan but thought she was young and would grow tired of him.
Both Zach and Madigan has trust issues..more Madigan than Zach. She was a truly frustrating character read. I mean she had a reasons, but as she stated. Hers was borderline paranoia.
Their getting thrown back together was built around deceit. But Zach and Madi fight their way to save their relationship. Do they get a HEA? Yeah they do. But they go through a twisted web of s**t to get it.
Leslie Ferdinand writing is wonderful and girl..you have a new fan. You had me all twisted and teary eyed. There was a saying from the movie Bringing Down The House. When dude says about Queen Latifah's character "The cool points out the window and you got him all twisted up in the game." LOL, but seriously...I was a mess.
A truly wonderfully written book. Three dimensional characters and a story plot that is written like a dramatic TV series. It was just that good.
I highly recommend this book and you have to add this author to your to author to watch list.
Rating
5 Kisses
A dramatic open mouth kiss that will leave you a little weary, but excited it started in the first place.
About Your Author
Leslie C. Ferdinand is the mother/daughter writing team of Leslie C. Megahey and Shirley H. Ferdinand. Previously published as Christine Holden, they released their first Multicultural Erotic Romance in March 2012. Leslie is the founder of Inside Rose Rich Magazine. Wicked Allure is the first title in a series about the DeLeon sisters and the Steele brothers.
**book provided by author through Book Trailer Showcase Virtual Tours.
Leslie is also offering a paperback copy of the book as a Giveaway. Be sure to enter through the rafflecopter posted here on 6/2/12.