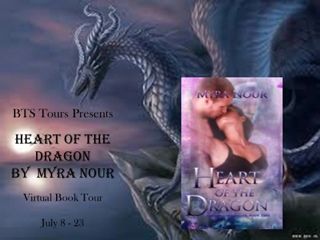 Hi and welcome to my part in Myra's Heart of A Dragon Tour. There will be a review and giveaway.
Published: June 7, 2012
Format; eBook (Review)
Series: Volam Chronicles #2
Available: Barnes & Noble / Amazon
Rating:
4 Kisses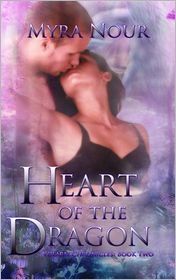 Blurb
Can Eric, a tough, handsome Green Beret from Earth, convince Kasha, the stubborn warrior princess of Volarn, that he loves
her? Not before they experience adventure in the haunted wastelands, discover a baby dragon, and explore the hot,
sensual side of their relationship.
Travel back to Volarn for more magical romance and new adventure with King Rhamus's sister, Kasha, and Olga's brother, Eric. If you loved Love's Captive, be enchanted with Volarn Chronicles Book Two. Find out what sad secret makes Kasha run from love. Follow the characters' fox and hound game of love, as each pushes the other to their limits, climaxing in a dramatic rescue that changes everything. Be warned, this book is filled with humor and love that knows no bounds. And an adorable, goofy dragon that will win your heart, so that you will be asking "How do I adopt a dragon of my own!".
My Review
Okay so if you don't know, I'm a huge fan of Sci-fi as well. I love to get lost in other worlds..it's so much fun. And let me tell you, I got lost had fun reading Myra Nour's Heart of A Dragon. The world and character building was very well done. I mean how can you make a giant spider looking creature lovable? Well Myra did that and she did it perfectly.
I can't say that I liked Kasha in the beginning of this story. She was a truth a bit irritating, BUT the more I read, the more I grew to like her...she truly was a strong female lead. And Eric, what can I say other than what a determined dude..lol! No matter how indifferent Kasha acted towards him, he kept on plowing on. Determined indeed ;)
Well Myra, you have a new fan and I'll be reading Love's Captive (Book 1) ASAP.
Heat Level
Myra has graciously offered a eBook coy of Heart of A Dragon. Just fill out the Rafflecopter.
This contest is INT, so if you can receive the eBook, I'll send it to you.
About Your Author
Myra Nour grew up reading s/f, fantasy, and romance, so she was really thrilled when these elements were combined in Futuristic Romances. She enjoys writing within all these elements, whether the hero is a handsome man from another planet, or a tiny fairy from another dimension. Myra's background is in counseling, and she likes using her knowledge to create believable characters. She also enjoys lively dialogue and, of course, using her imagination to create other worlds with lots of action/adventure, as well as romance. She uses her handsome husband as inspiration for her heroes - he is a body builder, a soldier, and has a black belt in Tae Kwon Do.
Email: myranour@aol.com
a Rafflecopter giveaway