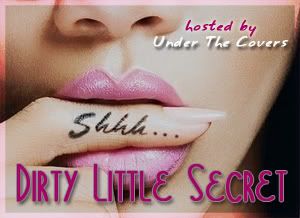 Dirty Little Secret is a weekly meme hosted by us at Under the Covers. Every Thursday we get to know other bloggers and our readers more intimately by asking them a question hoping to reveal their dirty little secrets. We hope that you will all join us!
To participate in the meme all you need to do is:
1. Be a follower of
Under the Covers
.
2. Create a post in your blog taking the meme image (code above) and copy instructions.
3. Answer the question we propose! This can be done in any way you like, post a video, write a post etc.
4. Then add your link back at
UTC
.
Non-bloggers: We want to hear from you as well!!! Let us know your answer in the comments!
We hope you join us and let us know your Dirty Little Secrets!
"If you could replace the heroine in a scene with yourself, which scene would you pick and why?"
I would choose Elena from Nalini Singhs Guild Hunter series. It was a scene in Archangels Kiss where Rapheal & Elena did the "Angel Dance" in the air (they really had sex flying..). It was such a sexually charged scene...hmm...hmm...hmm...lucky Elena! I wanted to be her so damn bad!