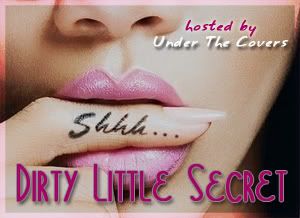 Dirty Little Secret is a weekly meme hosted by us at Under the Covers. Every Thursday we get to know other bloggers and our readers more intimately by asking them a question hoping to reveal their dirty little secrets. We hope that you will all join us!
To participate in the meme all you need to do is:
1. Be a follower of Under the Covers.
2. Create a post in your blog taking the meme image (code above) and copy instructions.
3. Answer the question proposed! This can be done in any way you like, post a video, write a post etc.
4. Then add your link back at
UTC
.
Non-bloggers: We want to hear from you as well!!! Let us know your answer in the comments!
We hope you join us and let us know your Dirty Little Secrets!
What book have you read recently that has surprised you (good or bad!), or that has been outside your normal reading genre?
For me it was Master's Hunt by Verity Ant. I don't know what I was expecting when I read this book, it is BDSM, but hard-core. I was pleasantly surprised by the characters, especially Kevin. It was really a good story to read. It made me realize not to be so hesitant to read a particular Genre...
Kevin was the the Master and he was hard man...but he also had this protective side when it came to his slaves Renee & Amiko, as well as his sister. I wasn't expecting him to love or have any feelings for the women he was with, but he did and that was just mind blowing to me.
Kevin, Renee, and Amiko love each other. Like the triangle—the strongest geometric configuration—their love is both simple and complex, made more complex, perhaps, by the BDSM nature of their sexuality. Kevin is the apex of their union, a sexual sadist and dominant personality. His women, both intelligent and attractive, are submissive, but only to him. He would never harm them, but Kevin, driven by the narrow focus of his sexuality, finds pleasure in inflicting sexual pain in a controlled manner, rewarding good behavior with pleasure.
When Amiko is stolen from their triad, kidnapped by a crazy woman who fancies herself in love with the Asian beauty, both Kevin and Renee are beside themselves with concern for her welfare. They need to find Amiko before something ugly happens to her. From captivity, Amiko tries to help them, but her trail of "breadcrumbs" might just get her into more trouble than she is already in.
Tag!..you're next!