Do you ever read books that get you a little hot and steamy? If you do, join in Hot Reads and share some of your favorite sexy reads and find some new ones!
Hot Reads is a Monthly Meme, hosted by Book Savvy Babe and Alive on the Shelves, where we get to share our hottest read of the month! Your choice can be any book, it doesn't matter the genre, the length, whether it's new or old. If you read it during the month, and it raised your temperature, it qualifies to be a HOT READ! To make things as simple as possible, Hot Reads will take place the 28th day of the month. So every month, be ready to share your HOT READ pick!
IMPORTANT: Due to content, this meme is open to participants 18 and older ONLY!
How To Participate:
Pick your HOT READ of the month (ex. on July 28, you pick your HOT READ for the month of March)
Make a blog post sharing your Hot Read pick. Include in the post: book title, author, HOT READ button, and links to the hosts. If you would like to include book teasers, book review, etc feel free!
Add the link to your post in the linky at a host site and visit the other blogs to see what others chose as their HOT READ! (you only need to enter your link 1 time)
As always, don't forget to spread the word! (help us out by tweeting, facebook, etc)
Now, a HOT READ doesn't have to be hard-core. Maybe the author's photo made you hot! Maybe the cover art — all those broad shoulders and rippling abs — raised your temperature. Maybe there was just a scene or a setting that made you squirm in your seat — those all qualify! After all, we don't all have the same taste in men (or ladies, pick your pleasure), so why should we have the same taste in HOT READS?
My HOT Read for July is...
Hands down, it was A Measured Risk by Natasha Blackthorne. What an incredible sexy historical read. There is a BDSM flavor to this story as well and it is smoking hot. Here's my
Review

.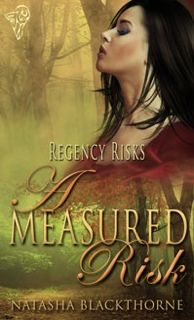 **Book Cover from Total E-Bound Publishing.
Book Blurb (Goodreads)
Book one in the Regency Risks Series
He is her most dangerous temptation, the only man she has ever trusted and now he is demanding her submission. Dare she take the risk?
Emotionally scarred in the horrific accident that took her husband's life, Lady Cranfield is imprisoned by her lingering terror of horses and carriages. Lady Cranfield longed to be closer to the fascinating Earl of Ruel. She sensed intuitively that he could teach her how to overcome the terrors that held her in bondage.
And now she's willing to risk almost anything-her reputation, even her virtue-to find out. But what he proposes startles her.
When the shy, studious and socially awkward young widow approached him, Ruel instantly sensed she would be the sweetest, most submissive experience of a lifetime-if only he can gain her total and complete trust. He makes her a non-negotiable offer. His help in return for her submission and obedience.
But Lady Cranfield grew up neglected by her ducal parents, raised by servants and then later ignored by her handsome, charming husband. She's learnt to protect her heart at all costs and she trusts no one but herself.
How can the jaded Earl of Ruel break through her self-protective defences and show her how to love when he has spent his lifetime avoiding that tender trap?
**Reader Advisory: This is a work of historical fiction, it is not meant to be an accurate portrayal of or guide to how people recover from Post Traumatic Stress Disorder. It is also not meant to be an accurate portrayal of modern BDSM or D/s lifestyles.
This is a work of Erotic Historical Romance and it uses the graphic language and situations of Erotic Romance.
So what about You? Gotta Hot Read for July? Share it and be sure to link back to Book Savvy Babe or Alive on The Shelves, the Linky stays open for a Month.