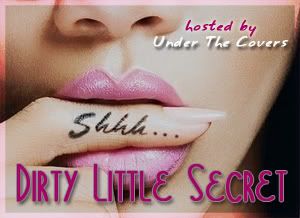 Dirty Little Secret is a weekly meme hosted by Under the Covers. Every Thursday we get to know other bloggers and our readers more intimately by asking them a question hoping to reveal their dirty little secrets. We hope that you will all join us!
To participate in the meme all you need to do is:
1. Be a follower of
Under the Covers
.
2. Create a post in your blog taking the meme image (code above) and copy instructions.
3. Answer the question we propose! This can be done in any way you like, post a video, write a post etc.
4. Then add your link back at
UTC
.
Non-bloggers: We want to hear from you as well!!! Let us know your answer in the comments!
We hope you join us and let us know your Dirty Little Secrets!
This week's question:
"All your favourite characters and celebs have been entered into the SEXY OLYMPICS! Who would win your Gold, Silver and Bronze and why"
Pick only characters from books you've read THIS year.
Bronze
- Ian from Moonglow. He was so damn sexy and although I didn't really like his ass in Firelight, he took me by complete surprise in Moonglow...turns out he wasn't such an ass anyway...lol! especially after that carriage scene..
Silver
- Sanitago from Seduced by Blood. Although he was a cussing mofo with a bad attitude..something about a military kinda of man does something to me...
Gold
- Gideon from Bared to You. He kinda stole my heart..yeah, he was a control freak with issues, but I love my tortured men. And this one is tops for me..damn I wish his ass was real..
Well, that's mine. What about you? who gets your medals?