Expected Publication: August 28, 2012Format: eBook (ARC)**provider by publisher through NetGalley for an honest reviewSeries: The Company of Angels #2Available: Amazon / Barnes & Noble / Book Depository
Rating
4 Kisses


Blurb (Goodreads)
Even ANGELS can be tough... Ex-cop Brendan Clarkson is an angel with an edge. His tough exterior is the perfect camouflage for his job-hunting down the most dangerous criminals on earth. Brendan's a self-reliant and demanding lone wolf, constantly on the brink of clashing with his superiors at the Company of Angels.
Brendan is the perfect angel to track and capture demoness Luciana Rossetti. Luciana's cool, green-eyed beauty masks her true nature: inside, she's a dangerous and malevolent killer. Yet, she sees what most people don't-that beneath the layers of Brendan's rugged shell beats the heart of a passionate lover.
They are perfectly matched. Yin and yang. Angel and demon. Man and woman. But only one of them can win the battle of wills, of strength and of desire.
My Thoughts
This is the 2nd book in the Company of Angels series and I feel that you don't need to read the first book to pretty much get what is going on. Simply the Angels in this series capture rouge Demons/Angels and try to get to them to reform basically.
Luciana Rossetti, who was also in the first book is a demoness who is bent on revenge against those she feels who have wronged her. She escaped from the company of angels and now they are out to capture her again because they have discovered that she's able to create poisons that can kill immortals. They send Angel Brandon Clarkson after her in Venice where she lives.
Brandon who is still bitter over his death is an angel who likes to work his assignments alone. He wastes no time in his pursuit of Luciana, but is thrown off by his immediate attraction to her. He feels that there is good in Luciana, but fights with his attraction because she is evil.
Luciana is wary of her attraction of Brandon too, but she still uses her "feminine wiles" in a attempt to seduce Brandon in order to kill him.
I think this story is a good one and I love the concept., you know. Angels and Demons who are supposed to enemies in the war of good & evil find love with one another. I mean how taboo is that? But felt it kind of dragged. The cat & mouse game between Luciana and Brandon played out way too long and I wanted them to hurry up and sleep together or figured out what the heck they were going to do about these feelings they obviously have towards each other.
Luciana I don't know how I felt about her character. I wanted to dislike her because she was the per say bad guy in the story, but I found myself liking her as well and I started to feel like Brandon that maybe there was some good deep down inside of her. But her constant need for revenge was kind of irritating in the fact that she kind of didn't take responsibility for her actions in the bad things that she did or that were going on around her.
Brandon was different in the sense that yes he was angry and bitter over his death, but he was in the here and now, it didn't stop him from doing his job in the company..which is why he made for such a good angel. But there was something dark in him. Luciana felt it and as I read, I kept thinking…yup there is something dark in that man. But he didn't like go all evil or anything like that. I found it interesting that every assignment he finished he instantly obtained a tattoo on his body..so many in fact that his torso was basically covered in them *drools*. Hell all he needed was a bad ass motorcycle, but he did drive a pretty hot ass Dodge Charger.
Within this story, you have two beings who knew what they were, but had their struggles and doubts about the things going on around them. It made them more real in a sense. Brandon not dealing with his death and revisiting his murder every time he went to sleep & Luciana who was evil, but had these redeeming qualities and just didn't act on them because she felt that she wasn't redeemable.
There is a good storyline here and cast of characters are interesting, but don't look exactly look for a HEA. Luciana & Brandon eventually give into their feelings for one another, but don't end of together in this book. So I'm interested to see what happens with their relationship…if they end of being with each other or not. I'm also want to see what happens with Brandon's former supervisor Arielle…she needs her own book, very complex character…
Heat Level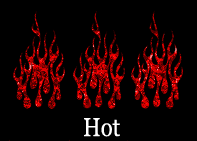 This is part of my NetGalley August Challenge going on at Goldilox & The Three Weres.