Hey Beautifuls!
Welcome to another edition of Tuesday Jams, a weekly post hosted by myself here @ Salacious Reads. This is my way of sharing with you my other love, music. Wanna share your favorite song or artist too, just comment linking back to your site & I'll be sure to stop by!
Ms. Gwen Stefani. She looks like a pretty cool person, she a fashionista and I just adore her music, especially when she was with No Doubt. I loved them as a group & was so heart broken when they broke up. But I hear they are back together to work on an upcoming album...so yay! for us No Doubt fans and for those of us w/the girly crushes...we get to crush on Gwen all over again...lol!
** Free banner courtesy Gwen Stefani's website
Birth name
Gwen Renée Stefani
Born
October 3, 1969
Fullerton, California,

United States

Genres
Pop, dance, rock, electronic,R&B
Occupations
Singer-songwriter, record producer, fashion designer, dancer, actress
Instruments
Vocals, guitar[1]
Years active
1986–present
Labels
Interscope
Associated acts
No Doubt, Eve, The Neptunes,Sublime, Dr. Dre, Akon, Outkast
Website
www.gwenstefani.com
*courtesy Wikipedia
Just some of my favorite songs...
Going to dance dance now...If I was a rich girl, nah..nah.nah..nah!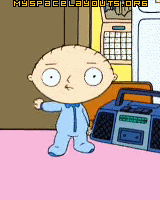 Getting down with my bad self..lol!