Published: Aug 29, 2011
Format: (eBook)
**(my copy) free download via Smashwords
Series: Rescue Me (#1)
Available: Barnes & Noble/ Amazon



Rating

Blurb (Goodreads)
Masters at Arms begins the journey of three men, each on a quest for honor, acceptance, and to ease his unspoken pain. Their paths cross at one of the darkest points in their lives. As they try to come to terms with the aftermath--forging an unbreakable bond--will they ever truly become masters of their own fates? Or would fate become masters of them? (Book One in the Rescue Me series about the men who own the Masters at Arms BDSM Club.)
AUTHOR'S NOTE
: This is an introduction to the series, but does NOT have the Happily Ever After endings that will come in the next three romance novels in the series. Being the back-story that usually is not told in "real time," there are some intense themes in the book, including death of a spouse, incest, torture, a battle scene, and amputation.
My Thoughts
This book was so very emotional, I literally cried in every story told. The first book in this series gives you a glimpse of Master Adam, Damian and Marc. Adam and Marc are already Doms when their story starts, Daimian isn't but has learned to be a Master.
This book also tells you their background stories, why they are all damaged, how they became friends…how they bonded. You will get a glimpse of the women who will in a sense dominate them. Except Marc, except for the woman who broke his heart; there was no mention of who will tame this Master, but by the end of book, I knew he was restless..for what I'm not sure.
Kallypso Masters weaved a wonderfully, spectacular, emotionally draining tale. The character and world building is so real..my goodness. The scene where they were in Iraq in the middle of an insurgent attack..I was crying so hard, I had to put my NOOK down for a while. But it wasn't all tears, there are funny, sweet tender moments too. But there are very dark moments as well.
Ms. Masters tells a story or rather stories with the beginnings of what leads to a series that will more than likely leave you physically quaking. You know I've had this book on my eReader for more than 6 months and am so sorry it took me so long to read it. But I'm glad I finally did, there's something about finding a gem amongst your things and Masters At Arms is a gem.
I'm truly excited to get started with the rest of the books the Rescue Me Series. A highly recommended read, if you haven't already...go download it.
Heat Level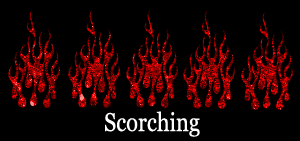 I'm adding the Amazon link, but the book is free.