Published: September 4, 2012
Format: eBook (ARC)
**provided by publisher thru NetGalley for a honest review
Available:
Barnes & Noble
/
Amazon
/
Goodreads
Rating
4 Kisses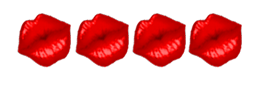 Blurb (Goodreads)
Tesla Martin is drifting pleasantly through life, slinging lattes at Morningstar Mocha, enjoying the ebb and flow of caffeine-starved customers, devoted to her cadre of regulars. But none of the bottomless-cup crowd compares with Meredith, a charismatic force of nature who can coax intimate tales from even the shyest of Morningstar's clientele.
Caught in Meredith's sensual, irresistible orbit, inexpressibly flattered by the siren's attention, Tesla shares long-buried chapters of her life, holding nothing back. Nothing Meredith proposes seems impossible—not even Tesla sleeping with Meredith's husband, Charlie, while she looks on. After all, it's all in fun, isn't it?
In a heartbeat, vulnerable Tesla is swept into a spectacular love triangle. Together, gentle, grounded Charlie and sparkling, maddening Meredith are everything Tesla has ever needed, wanted, or dreamed of, even if no one else on earth understands. They're three against the world.
But soon one of the vertices begins pulling away until only two points remain—and the space between them gapes with confusion, with grief and with possibility….
My Thoughts
This story was emotionally charged as it was sexual.
Telsa knows who she is and is happy with that. She's happy with where she currently works and lives. But she's lonely and is looking for some form of normalcy. In walks Meredith, a regular at the coffee shop where Telsa works and she makes Telsa an offer she could, but doesn't refuse. That offer is to sleep with Charlie, Meredith's husband and although Telsa thinks she can handle it, she really can't.
As soon as I started to get into this story, I knew I wasn't going to like Meredith. She truly was written not to be liked and her husband Charlie...what a wimp. Meredith was passive aggressive and manipulative and her Charlie just took it, I really didn't care for either one of them. Don't get me wrong, Charles was a sweet guy, but to let your wife just run all over you and not to at least argue back with her?..I just didn't get it.
The story is more about Telsa though. There is a lot of reflecting about the way she grew up and as much as I don't like that at times, if fitted this story. You needed to know Telsa's background to understand her relationships with the people in her life. I liked the fact that Ms. Hart made her still likable even after how totally messed up her childhood was. You see Telsa and her brother Captain (..yes that is his name) grew up pretty much in a commune. Every summer their parents would go to this place to live and be "Free".
The more Meredith started pushing Telsa to tell her about life in the commune, I knew then that this was going to turn into a story with twists and turns that I probably wouldn't like. Telsa agrees to sleep with Charlie because she also attracted to Meredith. What starts as something fun and what Telsa thought could turn a real relationship turns into something either person in this threesome can deal with.
"I don't regret anything that happened. I'm sorry Meredith couldn't deal with it. I'm sorry if you can't"
And this was really the problem, Meredith could not only handle the relationship..she couldn't handle her husband falling in love with Telsa. Poor stupid Charlie truly wanted to keep the relationship as it was because he did love his wife, but Meredith just couldn't get pass her own mess. In the end, she doesn't get to hurt Charlie or Telsa like she wanted to and I'm glad for that because lord I hated her ass. She is #2 on my list for most hated female characters.
Telsa was the strong one in the relationship...the adult. She had to be and was use to it, I liked Telsa. Because even after the way she grew up and yeah she was a little insecure...she didn't let it affect her world...she just continued being her. And that I was happy for.
"Everyone has a story". I murmured, opening my car door and climbing inside. "this is how this one ends"
I liked the book and recommend it. There will be some things that some people won't like..if this is you...move on. But if you like a emotional story with a surprising HEA, then pick this one up and enjoy it.
Heat Level