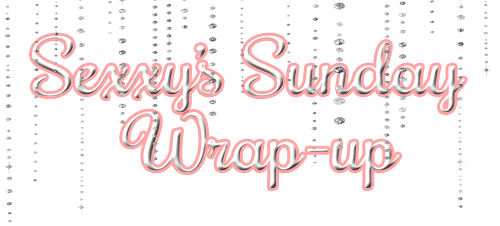 I'm not part of any Sunday memes, but of course my Wrap-up is inspired by many.
So this is my way of showing the salaciously sexxy happenings that went on this past week at Salacious Reads...
Hi Sexxy People!
We'll much didn't go on a Salacious Reads this past week. I had a wedding to prepare for and with work, I would not have had the time to post to the blog. I did manage to get a couple of Reviews in though.
Wibbitz
Text-To-Video
FYI...video will go into some of the week before last posts.
I didn't have any book buys this week. But I did receive The Angel from a giveaway I won over at
Talk Supe
...thanks Ladies & Harlequin Mira. OMG, this book is soooo good. I'm definitely on Team Soren.
From Edelweiss
Tour Reviews
Skye Warreen's Blog Tour (Oct 9th)
Book Trailer Showcase (Nov. 23rd)
Entangled Publishing
Ashed and Wine Tour (Oct. 22nd)
So, like I said I had a wedding. I thought I would post some pics of the day (me & the BF)
The Happy Couple
My Uncle Willie & Aunt Sharon Moody
Have a wonderful Sunday!
Lata Dayas..MUAH