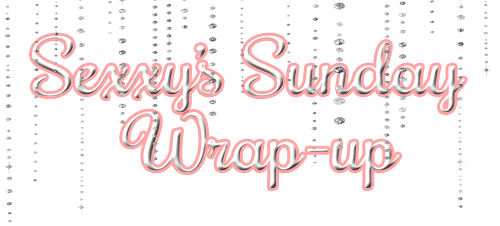 I'm not part of any Sunday memes, but of course my Wrap-up is inspired by many.
So this is my way of showing the salaciously sexxy happenings that went on this past week at Salacious Reads...
My post is kinda of late today... yesterday was a little nutty. I had not one male child to take care of this weekend, but four (that included one adult male who just tried my patience..but I love him, lol) and of course I had church this morning. It was a good service, but I ain't preaching ;)
Lets get it going...
Wibbitz Text-to-Video
What you didn't see in the video...
SalaciousRandomness #10
Alpha Males After Dark (#1)
HOT Reads-August
Tuesday Jams-Janet Jackson
Anime Review - Rin: Daughters of Mnemosyne (episode 1)
Brought...
Paperbacks ~
eBooks (B&N Nook Books)~
Freebies...
(B&N NOOK Books)
Upcoming Reviews...
Stitch by Stephanie Durante
The Siren by Tiffany Riesz
Archangel's Storm by Nalini Singh
The Space Between Us by Megan Hart
Anime Review
Rin: Daughters of Mnemosyne
(Episode 2)
On going Event
Blog Anniversary/Centerstage Giveaway
Lata Days and have blessed day & week ;)