Good Morning and welcome to Salacious Reads part in Samantha Durante's Stitch Tour.
Published: August 1, 2012Format: eBook (ARC)**provided by author for an honest review & promotional spotlightSeries: Stitch Triology (#1)Available: Barnes & Noble / Amazon / Smashwordsalso available in iTunes as a eBook for $2.99
Rating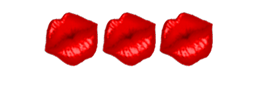 1/2


There is also Dystopia elements to this book as well.
Blurb (Goodreads)
Her heart races, her muscles coil, and every impulse in Alessa's body screams at her to run... but yet she's powerless to move.
Still struggling to find her footing after the sudden death of her parents, the last thing college freshman Alessa has the strength to deal with is the inexplicable visceral pull drawing her to a handsome ghostly presence. In between grappling with exams and sorority soirees - and disturbing recurring dreams of being captive in a futuristic prison hell - Alessa is determined to unravel the mystery of the apparition who leaves her breathless. But the terrifying secret she uncovers will find her groping desperately through her nightmares for answers.
Because what Alessa hasn't figured out yet is that she's not really a student, the object of her obsession is no ghost, and her sneaking suspicions that something sinister is lurking behind the walls of her university's idyllic campus are only just scratching the surface...
The opening installment in a twist-laden trilogy, Stitch spans the genres of paranormal romance and dystopian sci-fi to explore the challenges of a society in transition, where morality, vision, and pragmatism collide leaving the average citizen to suffer the results.
My Thoughts
I liked Stitch, but overall didn't enjoy it, why? I felt the story dragged throughout the first half of the book. Alessa is a college student still struggling with the lost of her parents and just trying to make it through her first year at a University she really didn't want to be at. But she trudges on with the help of her friend Janie.
There are definitely a lot of exciting twists in Stitch and Alessa is pretty straight forward kind of character, I actually liked her and that's saying a lot because I'm generally not a fan of younger female characters. Most times authors make them to bitchy or whiny or just bottom line too damn irritating. Alessa was not this and neither where any of the other characters. Don't get me wrong she had her irritating moments, but it wasn't bad, she was in essence your typical freshman college student.
Like I said the story starts off with Alessa trudging through school and trying to find out about the "ghost" that only she sees. This ghost is appearing in her room at different times throughout the day and Alessa attempts to find out who this handsome ghost is.
What probably could have turned out to be a really exciting read to me just wasn't. There is some seriously slowness going on this the first half of Stitch. It was about Alessa trying to get over her parents death and just her college life in general. I don't mind that, but it was just a little long in the tooth to the point I almost wanted to
not
pick this book back up.
We finally get an explanation of who this "ghost" is in the last half of the book. His name is Issac an low and behold, he also thinks Alessa is a ghost. He is also trying to find out why she keeps appearing in his life at odd times. We also find out that Alessa isn't that college student she thought she was and her best friend? well, she's really her sister. But this is all part of a carefully constructed almost like dream that Alessa and her friends are part of; something called as in the book's title Stitch. Where the now lower class in the future as a punishment for getting captured for their crimes are put in dream like TV shows or killed.
We pretty much find out a lot and yes, the year is now 2114 and after a deadly outbreak of a plague that killed off most of humanity. Alessa and her sister Janie, along with other survivors are now within the walls of a Paragon, a sterile facility where the outbreak didn't get to. We also find out that she and her friends are part of a rebel group of the lower class who want to get out of Paragon's wall and back to the outside world. They now know they are being held against their will for slave work and other demeaning acts.
To say I was confused throughout the book is putting it mildly. Where there was too much explanation in some areas, there was very little given in others. I won't give away too much of the book, but in the end we leave off with Alessa and Issac leaving Paragon to venture back to the outside world that was closed off to them.
They are the ones who will find out if earth is now habitable again and get word back to the rebels, this is where book 2 will pick up at. I'm going to read Shudder because I want to find out about this world, this future. I'll admit, I am curious. My only hope that there is just an evening out in this continued dystopia story.
I would still recommend Stitch as a book to read, especially for the New Adult/YA genre. There is still enough young love and futuristic drama/mystery to keep the story flowing even with the slowness at the beginning.
There isn't a heat level for Stitch.
About your Author
Author Photo/Bio
Source URL:
Medley Media Assoc.
Samantha Durante lives in New York City with her fiancé, Sudeep, and her cat, Gio. Formerly an engineer at Microsoft, Samantha left the world of software in 2010 to pursue her entrepreneurial dreams and a lifelong love of writing. A graduate of the University of Pennsylvania's Jerome Fisher Program in Management & Technology, Samantha is currently working full time for her company Medley Media Associates as a freelance business writer and communications consultant. Stitch is her first novel. Learn more about Samantha at www.samanthadurante.com.
Social Media Links

Facebook:
Stitch
Author Samantha Durante
Goodreads:
Stitch
Author Samantha Durante
LibraryThing:
Stitch
Author Samantha Durante
Shelfari:
Stitch
Author Samantha Durante
Lata Daya...Muah!