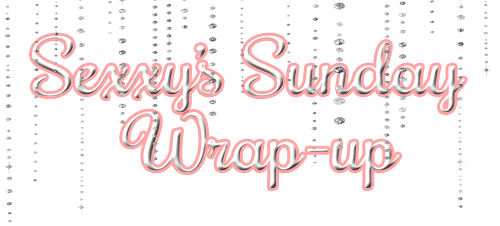 I'm not part of any Sunday memes, but of course my Wrap-up is inspired by many.
So this is my way of showing the salaciously sexxy happenings that went on this past week at Salacious Reads...
Hi Sexxy Folks!
Welcome to another Sunday here at Salacious Reads...thanks for stopping through!
Let's start with the
Wibbitz
Tex-to-Video
What I Brought
Freebie
Thanks Anna @
Herding Cats & Burning Soup
What I Coveted for Review
Blog Sexxiness
There are still some great giveaways going on at SR..so make sure you enter!
Wicked After Dark Blog Hop
Kallypso Masters Rescue Me Series Giveaway
I had a lil fun the weekend &
killed
...uh, I mean...well there really isn't any other way to "slice it"...lol!
"I ain't no killah, but don't push me"
I decided to play the song today...what to you think?
Movie News
I haven't seen a movie in about two months and I'm starving for something exciting..thank good gravy for DirectTV. Anyways, I was on FB & one of my friends posted about the upcoming 2013 release of The Lone Ranger, it looks pretty good...
Starring Armie Hammer (The Lone Ranger) & Johnny Depp (Tonto)
What I really would like to see is
Cloud Atlas
(based on the best selling novel by David Mitchell)...it just looks stunning..