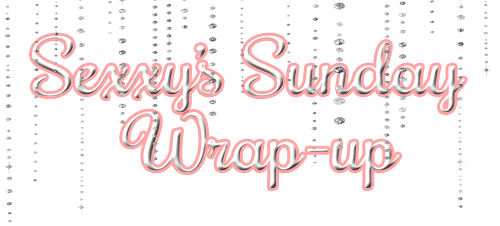 I'm not part of any Sunday memes, but of course my Wrap-up is inspired by many.
So this is my way of showing the salaciously sexxy happenings that went on this past week at Salacious Reads...
Welcome to another Sunday here at Salacious Reads...thanks for stopping through!
It was another slow book buying week here at SR...really just a slow week in general. I've been in a book reading slump lately, but it will pick up this week. I'm reading some pretty good books and part of a couple of great tours. Today, I'm just going to list my past week's posts.
BTS Tours Wild & Wicked Scavenger Hunt
Guys this scavenger hunt is still going on until the end of the month. Make sure to stop by all the participating blogs for your chance to win a really cool prize.
Tuesday Jams - Gothic Horror Music
You hear it playing..I discovered this music on YouTube.
Hot in Handcuffs Winner
was chosen. Jean was contacted & Cherise Sinclair's To Command & Collar was shipped through Book Depository. Jean...let me know how the book turns out ;o
Review: Beneath A Rising Moon by Keri Authur
NetGalley/Edelweiss Challenge Knockout Wrap Up
. I read 10 books..yay me!
After Males After Dark #5
. I like a lil Rhage with my reading...
Winner~Skye Warren's Hear Me Blog Tour
. Congrats Braine @ TalkSupe..let me know what you think of Hear Me.
What I Brought
Hyde, I have been hearing good things about. Plus I've always been kind of fascinated with the story of Jekyll & Hyde..
Of course, I brought another Tiffany Reisz book..I saw Kingley's name & was like..okay, I'm buying that..lol!
If you follow Amanda Greene, you would have saw that book 2 in her Rulers of Darkness series is on sale, you can visit her
website
for more details. I gobbled this one up for my NOOK @ $2.99.
The Princess is a non-fiction work. My friend Denise at work told me about it...sounded really good, so I downloaded it this morning (I forgot to do it Friday).
Snagged through Edelweiss
lately, I've been getting a resounding no to my requests through both NetGalley & Edelweiss...that really sucks sometimes ;(
I missed last weeks premier of The Walking Dead...I really can't remember why. But I'm catching it tonight along with the new episode. I'm not a fan of Laurie's, so I hope Rick is giving it to her ass. Is she going to die soon?...ugh, I really, really dislike her character.
I love Rick...I was so happy when he took charge & got in their asses at the end of last season. We'll see how this season comes along.
I'm really not a Zombie fan, but I friggin' love this series..it is so damn good.
Happy Sunday..enjoy the rest of your day and be blessed.